Easter is only weeks away! And with the kids home for the school holidays, I've got a treat to keep them entertained – a whimsical Easter colouring page by Melbourne artist Madeleline Stamer.
Maddie was kind enough to let me share this joyfully illustrated colouring page on My Poppet. You can also find a Christmas themed colouring page she designed here.
Filled with plenty of details for hours of colouring fun. Budding artists of any age will enjoy finding the little quirky details hidden in this Easter colouring page.
You may also enjoy:
If you look hard enough you'll find, swans wearing crowns, several lady bugs, butterflies and a cheeky little worm fellow. And of course there is an very dapper rabbit wearing a pretty bow tie. This colouring page is just delightful!
Kids can write their name in the banner on the bottom and add their own pattern designs to the eggs. It's an easy Easter craft that everyone can enjoy over the Easter break.
Download the PDF Easter colouring page and print out as many copies as you like, for personal use only please.
Designed to be printed on A4 paper, or just check the 'fit to page' setting for other sized paper.
Download the file here – EASTER COLOURING PAGE by Madeleline Stamer
Looking for more colouring pages? Sign up to The My Poppet Weekly and get The Lucky Draw Project as an added bonus. You'll get free colouring pages designed by local Aussie artists and illustrators sent straight to your inbox every fortnight.
LOVE IT? PIN IT!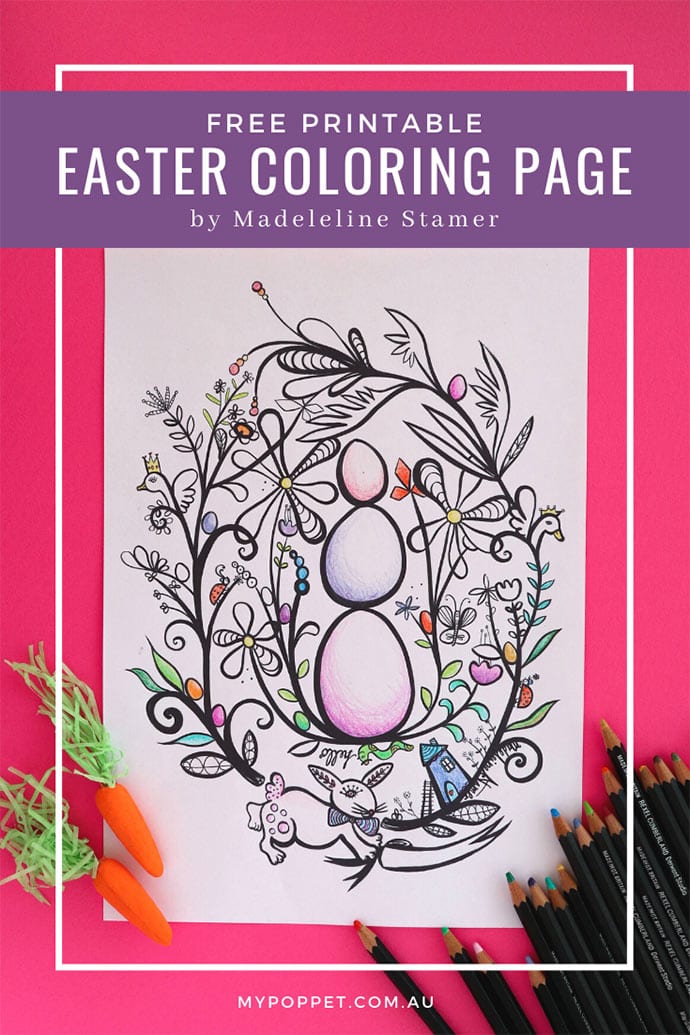 Please remember that this colouring page is for personal use only and redistribution in digital or physical form is not permitted. Feel free to share the link to this page as much as you like, but avoid linking directly to the illustrations download page. All artwork is copyright to Madeleine Stamer.