I know many of you readers are big fans of The Lucky Draw Project that has been running by subscription for a little while now, so as a treat, I thought it would be fun to have The Lucky Draw Project Christmas Special. I mean all the old TV shows have Christmas Specials so why cant we?
One of my favourite artists and friends, Madeleine Stamer has created an exclusive colouring page for us this Christmas with a festive Australiana inspired design. It would look gorgeous coloured in, but I quite like it in black and white too.
You can print your own copy right here – just download via the link Christmas Special Colouring Page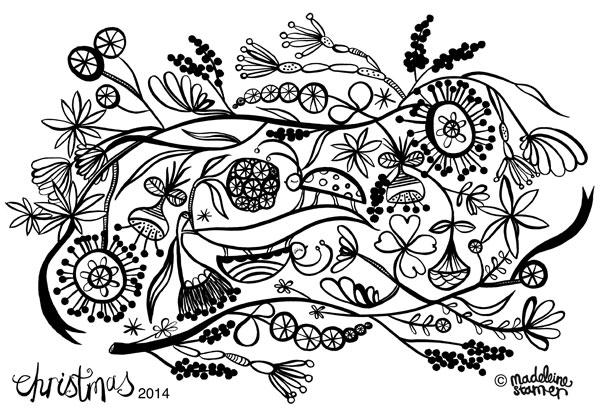 It's perfect to keep the kids entertained at Christmas lunch. Just print out a few and give them a tin full of pencils, I bet the grown-ups would have fun colouring too.
Another fun idea is to wrap them around a gift to add some extra pizazz! It's an excellent way to glam up gifts for adults quickly and easily.
I've added a some bright washi tape and pretty rainbow feather to tie in with the theme, but you could easily tuck a few pencils in there too so the kids can do some colouring once the high of unwrapping everything has worn off.

If you would like to receive lots more colouring pages each illustrated by a different Australian artist as part of The Lucky Draw Project, you can sign up here, it's free and lots of fun.

Happy Colouring!

Please remember that this colouring page is for personal use only and redistribution in digital or physical form is not permitted. Feel free to share the link to this page as much as you like, but avoid linking directly to the illustrations download page. All artwork is copyright to Madeleine Stamer.