In Australia Christmas falls in Summer, but yet the stores are still full of wintery, snow covered decorations that don't reflect a modern Australian Christmas, or mine anyway.
I've always been a bit non-traditional when it comes to decorating my home for the festive season, and this year will be no different.
So inspired by the explosion of fruit themed home decor and craft this year, it felt natural to me to make some Summer Fruit Christmas Stockings in bright colours to celebrate an authentic Christmas in Summer.
These Fruity Christmas Stockings are easy to make with only minimal sewing required. If you don't have a sewing machine they can easily be whip stitched by hand.
All details are glued on because I wanted to make it an accessible project for everyone, no matter what level your crafting skills. I've even created a pattern template that you can print so no guess work is required.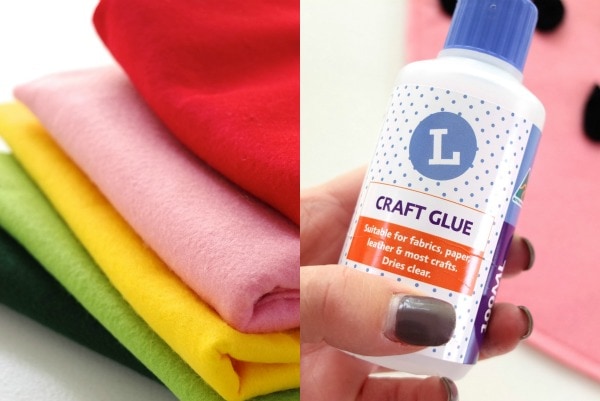 You will need:
Assembling the Basic Christmas Stocking Pattern
1. You will need to print out 2 (two) copies of the basic christmas stocking pattern at 100% size. I've designed them to fit onto an A4 page. There is a measurement guide included to check your sizing is correct.
Of course you can print to any size you like, just make sure that your sizing is consistent over all the templates.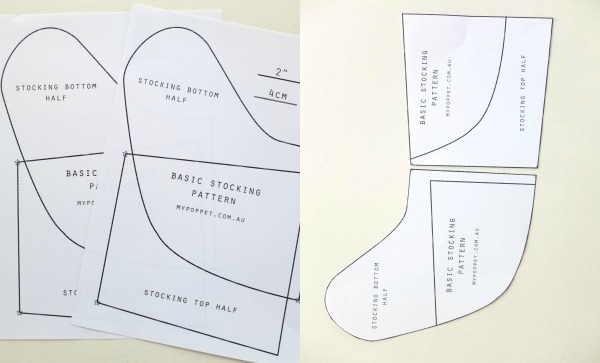 2. To make the full stocking, from one page cut the stocking bottom half, and from the other cut the stocking top half.
3. Match the little corner stars and tape together.
This is the base pattern to use for all the stockings.
Basic Christmas Stocking Construction
All three fruit stockings are basically made in the same way, so I'll only show you the cutting and construction once and any variations I'll add to the individual stocking instructions.
Cutting
4. On a double layer of felt pin the stocking pattern and cut to make 2 stocking shapes. No seam allowance is needed.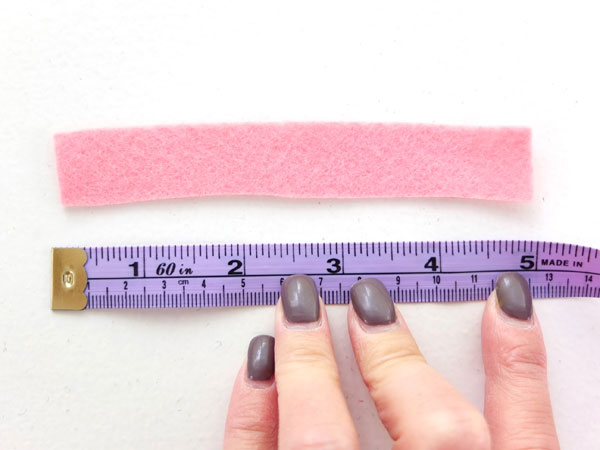 5. For hanging loop, cut a narrow rectangle about 5″x3/4″ (12.5cmx2cm)
6. Lay back and front of stocking pieces together and pin loop in between on an angle.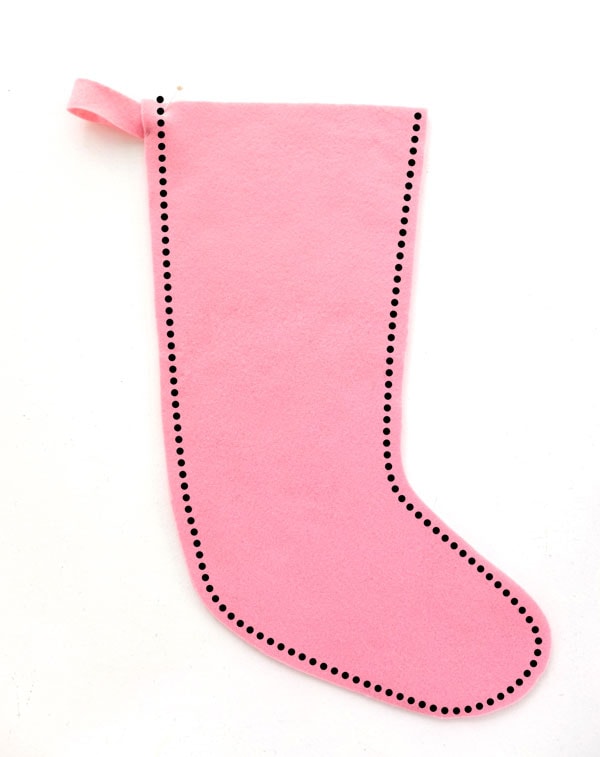 7. Sew around stocking as indicated on dotted line. A 1/4″ (0.5cm) seam allowance is fine.
Your loop should be nice and secure.
Let's make a Watermelon Stocking
You will need:
How to:
1. Cut and sew basic stocking as shown above.
2. Using the pattern, cut Watermelon top from green felt and seeds from black felt.
3. Glue on green felt watermelon top. Use the glue sparingly.
4. Glue on ric rac and trim to neaten edge.
5. Glue on seeds, you may like to play around with the placement before you commit.
All done!
Let's make a Strawberry Stocking
How to:
1. Cut and sew basic stocking as shown above.
2. Cut strawberry top and seeds from pattern.
3. Glue on green felt strawberry top. Use the glue sparingly.
4. Glue on seeds, you may like to play around with the placement before you commit.
Note: I've glued on the strawberry seeds pointy sides down, if you take a really close look at a strawberry the bottom part of the seed is a little pointier than the top.
Another Fruity Stocking done!
Let's make a Pineapple Stocking
There are a few extra steps required before we get to the sewing so make sure you don't rush ahead.
You will need:
How to:
Before sewing the pineapple stocking halves together the ric rac pattern needs to be glued onto the front piece of felt.
1. Lay your ric rac out in a criss cross pattern and pin into place.
2. One strip at a time, glue down with the tiniest bead of glue to avoid the glue oozing out the sides.
3. Allow to dry and then pin back and front of stocking together as per basic stocking construction instructions.
4. Sew together taking care to sew neatly over the ric rac
5. Trim ends of ric rac to neaten
6. Add glue to the top of the stocking and glue on dark green Pineapple top (behind). Place it slightly down from the top edge of the stocking.
7. Add light green pineapple top.
How fun are these stockings!
I really hope you enjoy making these as much as I did! I went to a lot of effort to design a free printable pattern for you so I'd love you to share it all over the interwebs, but please link to this page and not directly to the pattern download pages.
This pattern is for personal non-commercial use only, if you want to make a few to sell at your local school fundraising Christmas market that's totally cool, but no online selling please. Feel free to contact me with any questions.
For more non-traditional Christmas decorating and gift ideas, check out my Handmade Christmas Inspiration Guide