Christmas hasn't even arrived and I'm all ready day dreaming about summer holidays. Whilst our northern hemisphere friends are rugging up and preparing for a snowy Christmas, down here in OZ we will be cooling off in the pool and enjoying fresh tropical fruit.
In the spirit of embracing all things summer I've designed these Fun Fruit Keyrings from Hama/Perler beads, they are easy to make, and make great stocking fillers and Kris Kringle (Secret Santa) gifts.
Use them as key rings, or cute handbag charms. If you are embracing a summertime Christmas theme, why not add a hanging loop instead and use them as tree decorations.
I've included the patterns below, if your kids are old enough to play with beads, this would be a fun activity to do together, just make sure you do the ironing.

What are Hama beads? I'm glad you asked.
Hama Beads are small plastic beads/tubes that are placed one by one on a pegboard and then ironed until the beads are fused together. They are available at some craft stores, online and even IKEA.
You will need:
Hama (or Perler) beads in assorted colours including green, yellow, red, brown, white, black
Square Hama pegboard (for strawberry and pineapple)
Round Hama pegboard (for watermelon and kiwi)
Tweezers (optional but useful)
Silicone baking paper (ironing paper)
Iron
Heat proof surface
Heavy book
Keyring findings/metal rings
Eyelet tool (or punch and hammer) and metal eyelets

How to:
1. Following the fruit pattern layouts, place your beads, one by one onto the peg board. Tweezers help.


2. Place your non-stick ironing paper over your design. Apply the iron (no steam) for just a few seconds using smooth movements until the beads start to fuse, make sure the iron doesn't touch the pegboard. Leave your bead design to cool for a short time, then carefully remove it from the pegboard. Once you have removed the design from the board, the beads will be fused together on one side, flip the design and on a heat proof flat surface, iron the other side with the paper. This post has step by step pictures.


3. While still warm, place a heavy book on top of the fruit shapes to avoid the edges curling up as they cool.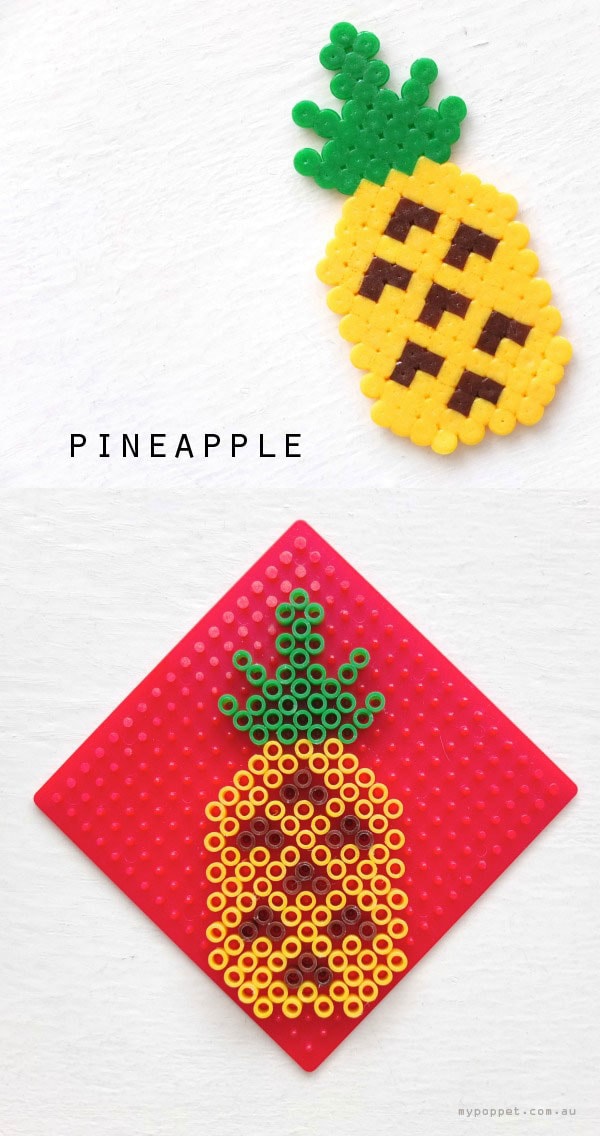 (I've used a heart shaped pegboard here for colour contrast only, the strawberry pattern can be made on a square pegboard)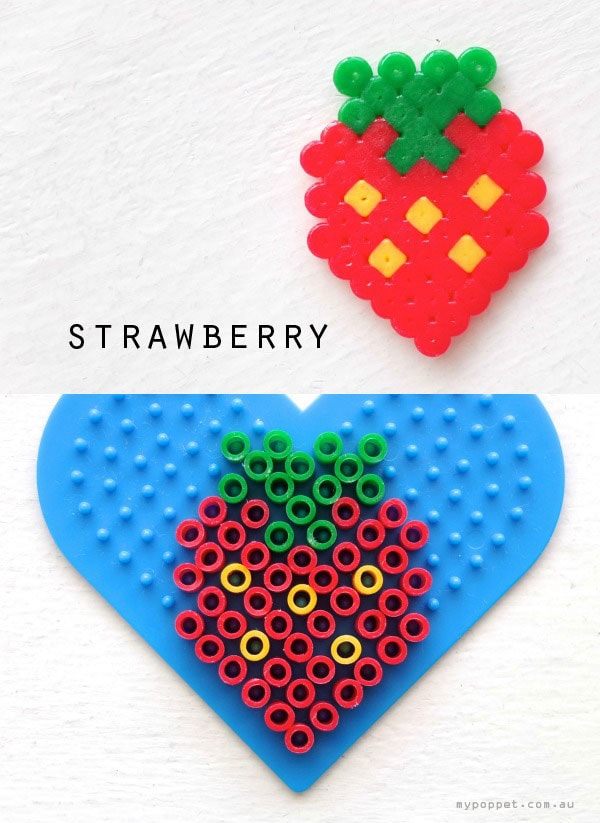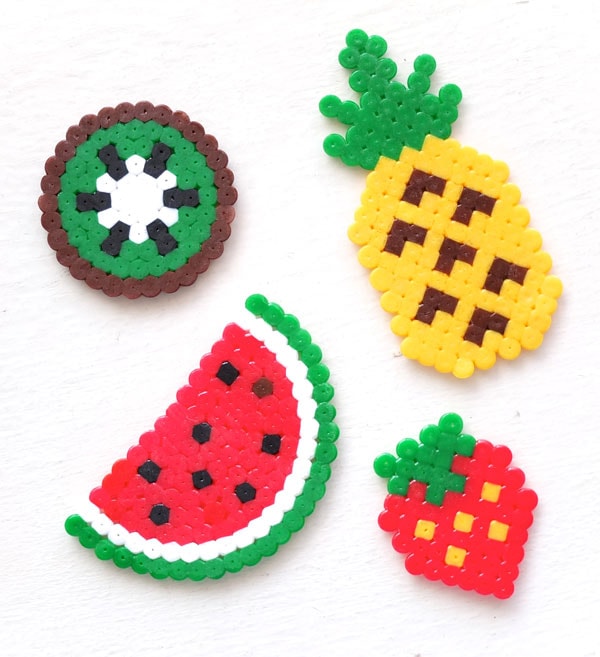 4. With your eyelet tool, punch a hole in your fruit shapes, insert and affix the eyelet as per manufacturers instructions. You may need to cut away a little bit of the plastic to accommodate the eyelet.
(Some eyelets come with a punch that requires you to hammer them in, follow packet instructions for correct use.)

5. Thread your keyring or keychain through the eyelet.
All done! Add your keys and your are set.


Hang on your favourite summer tote bag to accessorize your accessory!


Mix and match your favourite fruits together to make a fruit salad keyring!
Have you crafted with Hama beads before?
You may also enjoy these Hama bead projects and patterns:
–Pixel Coaster
–Hama Bead Medal Brooch
–Space Invader Ornaments