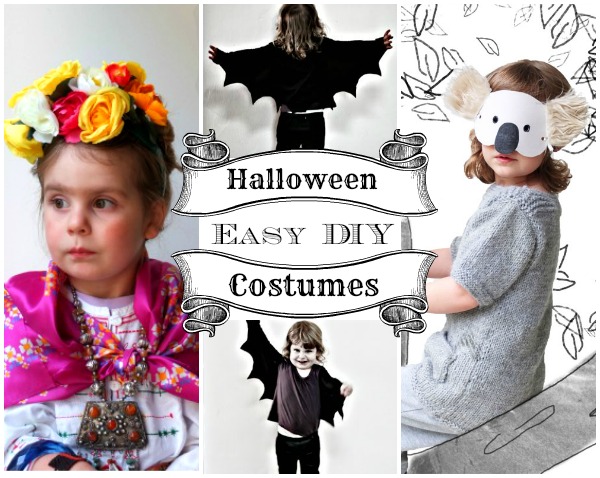 I've had a few e-mails recently from readers looking for my Bat Wing Tutorial, it's very popular at this time of year. So I thought I'd post a little Halloween Costume roundup from the archives of My Poppet.
All of these costumes can be put together with clothing and accessories that you may already have at home, and only require you to make one inexpensive accessory which takes less than a hour, making them ideal for last minute late night costume emergencies.
Click on the pictures to take you to the full tutorial.


Easy Bat Wings
These wings are worn like a shrug over dark clothing for an instant bat, Batman or vampire costume. Can't sew? Use fabric glue on the 2 seams instead.

Mini Frida Kahlo
Add some flowers to a headband to get Frida's signature look. Wear with a shawl, ethnic inspired necklace and colourful dress. Don't forget the monobrow.

Koala Mask
The ultimate throw together costume, grey clothing, a cereal carton and some cotton balls is all you need to transform your cutie in to a cute koala.
Check out my Halloween Costume Inspiration Pinterest page for more easy DIY costume ideas.