Christmas is fast approaching and if you are thinking about hand making some of your gifts this year, now is the perfect time to make a list and get started. In the next few weeks I'll be featuring some fun and easy projects that make perfect gifts.
Today I'm showing you how to make a Needle Felted Molecule Brooch. The name 'Molecule' came about because they reminded me of the little atomic models I mucked about with during chemistry labs at college.
Once you get the hang of needle felting them, you won't be able to stop at one. Mix and match felt colours to co-ordinate with your favourite outfits.
As an alternative to a brooch, you can sew your molecules onto a hair tie or even glue onto a headband.
If you are new to needle felting read —> Needle Felting Basics
You will need:
Wool roving (3 assorted colours)
Med/fine felting needle
Foam pad
Brooch back
Needle and thread
How to:
Gather your supplies


1. Working with one colour at a time, take some roving fibers and roll them tightly into a ball about the size of a small walnut.
2. Needle the wool ball till it holds its shape
3. Continue to needle into a firm half ball leaving a loose tail of roving fibers.
4. Repeat with other colours, creating balls around the same size.
5. Join 2 balls by needling the loose roving onto and through the adjoining ball.
6. Work around the ball where it joins to ensure it's firmly felted together.
7. Repeat with third ball.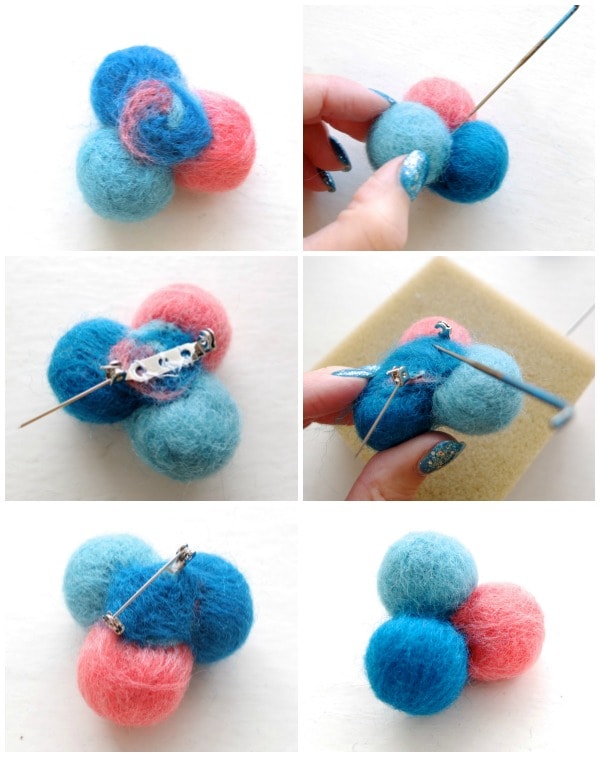 8. Flatten and felt the loose roving to the back of the balls creating a flat surface.
9. Tidy up loose fibers and define 'molecule' shapes.
10. Sew brooch fastener to back.
11. Optional, take a small piece of roving and cover the back of the brooch taking care to work the needle horizontally. (hitting the metal brooch may cause the needle to break)
12. All Done!
Wear and enjoy!