Bone inlay furniture is one of the hottest new trends in decor. The striking graphic patterned furniture pieces traditionally originated in India and are skillfully handmade by craftsmen made using pieces of real camel bone or mother of pearl shell.
Real bone inlay furniture can be expensive, and rightfully so, the craftsmanship is incredible. Look at this stunning example of a bone inlay dresser.
But with just a bit of creativity and a few tins of paint, you can transform an old piece of furniture into a stunning showpiece that will be the highlight of any room.
The team at Annie Sloan Chalk Paint has created a beautiful furniture makeover project using their products to upgrade an old dresser with a faux bone inlay painted design.
Annie Sloan Chalk Paint is so practical for giving almost anything a creative facelift. It's not only useful for painting furniture, I've used it to make over plant pots, mirror frames and even a pair of shoes!
Check out my Chalk Paint projects here:
Originally featured in the latest edition of The Colourist, a magazine full of colour, pattern and design inspiration. I've kindly been granted permission to republish this Bone Inlay Dresser Makeover here on My Poppet.
How to create the look of a Bone Inlay Dresser with Chalk Paint
This chest of drawers replicates brilliantly the meticulous work of the generations-old craft of inlaying. Pretty florals, intricate swirling leaves and geometric patterns highlighted using Pearlescent Glaze pop against the grey.
The beautiful design wraps around the sides of the chest for added interest.
Painted freehand by Dominique Malacarne to recreate the intricate decorative pattern style used in traditional Indian furniture.
If you are not confident with your freehand painting, or just want to take the hard work out of creating your own design, try using a pre-cut stencil. I recommend this one from Cutting Edge Stencils on Etsy.
You will need:
Dresser or piece of furniture to makeover – look for flat fronted drawers
1L Chalk Paint® in Graphite
1L Chalk Paint® in Old White
250ml Pearlescent Glaze – Dries with a pearl like finish for a luxurious paint effect
Large Flat Brush
Annie Sloan Detail Brush Set
500ml Clear Chalk Paint® Wax
Large Chalk Paint® Wax Brush and/or clean lint free rag
Tape measure
Chalk
Annie Sloan MixMat or container for paint mixing
How to:
1. Prepare surface of dresser by cleaning to remove any grease or oily residue. Smooth off any loose varnish, large scratches or gouges with a light sandpapering. No other prep work is required as Annie Sloan Chalk Paint sticks to clean oil free surfaces without priming or sanding.
2. Thoroughly mix 4 parts Chalk Paint® in Graphite to 1 part Chalk Paint® in Old White. Apply two coats, letting the paint dry between coats, using a Large Flat Brush.
3. Find the middle of each drawer using a tape measure. Mark with chalk. This will ensure that your design is centred and symmetrical.
4. To sketch the central flower design, make four dots 4cm from the centre chalk mark. Draw a semi circle to create the first petals. Draw in the gaps with chalk to create more petals for the central flower design.
5. Again using the chalk, add in the leaves and stems.
6. Mix Chalk Paint® in Old White with a little water on a MixMat to thin consistency slightly. Paint the flower with a Large Flat Detail Brush. Press gently with a Large Round Detail Brush to create the pattern and leaf motifs.
7. Use a Small Flat Detail Brush to paint the edging; the tip of a Large Round Detail Brush for the edge leaves.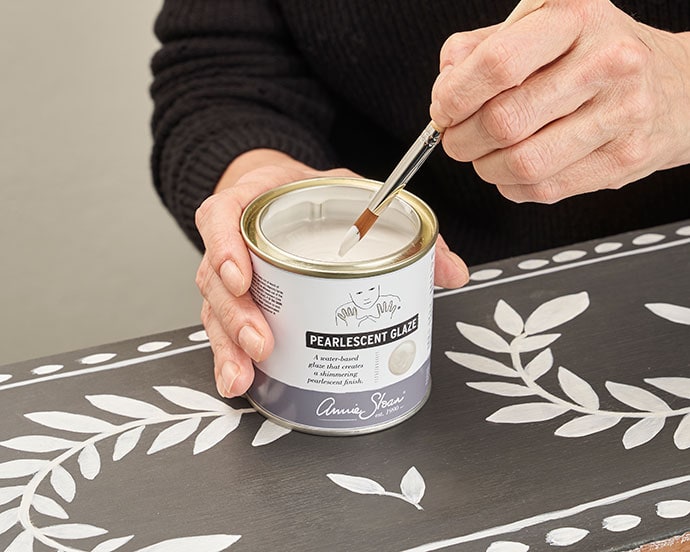 8. Ensure the Pearlescent Glaze is thoroughly mixed before use. Use the same Detail Brushes as before. Once dry, paint exactly over the Old White with the Pearlescent Glaze. The Pearlescent Glaze creates a subtle shimmer, reminiscent of bone inlay.
9. Once all the paint is dry, apply two coats of Clear Chalk Paint® Wax, gently buffing to remove any excess with a lint-free cloth.
DOMINIQUE'S TOP TIP
The best advice I can give is to take your time and take regular breaks. This kind of intricate freehand brushwork is so rewarding but it can be pretty intense. I sometimes found myself holding my breath while I painted each leaf or stem! Find more of Dominique's work at www.malphor.co.uk
This DIY furniture makeover project was originally featured in The Colourist, Issue 4 and republished with permission.
To purchase products featured refer to www.anniesloan.com for your nearest stockist
Photography credit: Jesse Wild
Painting credit: Dominique Malacarne