What can you do with an old suitcase? That's the question that Samsonite wants us all to think about. If you have old suitcases collecting dust in the shed or under the bed, it's time to dust them off and enter the Samsonite Suitcase Amnesty. It's time to get repurposing and upcycling to turn those old cases into something really cool.
They asked me to get the ball rolling and create something special with an old case of my own. I didn't have to be asked twice because you all know how much I love up-cycling!
I've been looking for an old dollhouse for Emma without any luck, so turning an old case into her own mini doll mansion was the perfect project.

You will need:
An old hard shell suitcase
2-3 wood pieces cut to size (width x depth of case) I've used some old narrow shelving.
Screws and screwdriver
Blackboard paint and paintbrush
Chalk
Decorative paper, and felt (optional)
Doll house furniture
How to:
1. Clean your suitcase thoroughly, vacuum out the inside and give the exterior a wipe with a damp cloth.
2. Measure the interior of the case to determine the size of your wood inserts = width x depth of bottom of case.
3. Cut wood to size, you may need to round off back corners if your case has curved edges. I've chosen 3 inserts (4 floors)as Emma's dolls are small, but for larger dolls you may only need 2 inserts (3 floors).


4. Screw in inserts from the outside of the case.


5. Give the exterior 2 coats of Chalkboard paint. Follow manufacturers instructions for drying times between coats.


6. Time to decorate the interior. I added some felt on the lower floor as carpet but liked the look of the hardwood floors on the other levels. You can add decorative papers on the walls, be as creative as you like. I actually left the original lining paper exposed as the house's wall paper as it was my favourite part of the case. It's why I bought it in the first place.


7. Rather than cutting out holes for windows and doors, I've drawn the house facade on with chalk. You can just wipe it off and change it's look whenever you like. It's a great way for kids to get creative and design their own house.


8. Fill it with little furniture. We found some of these items at the op-shop and made others out of bits and pieces we had at home.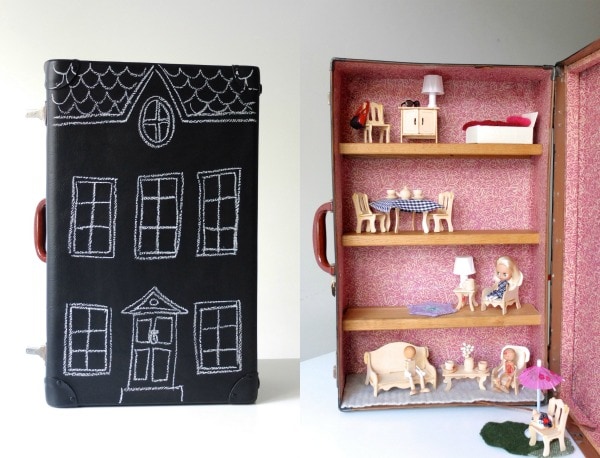 Time to Play!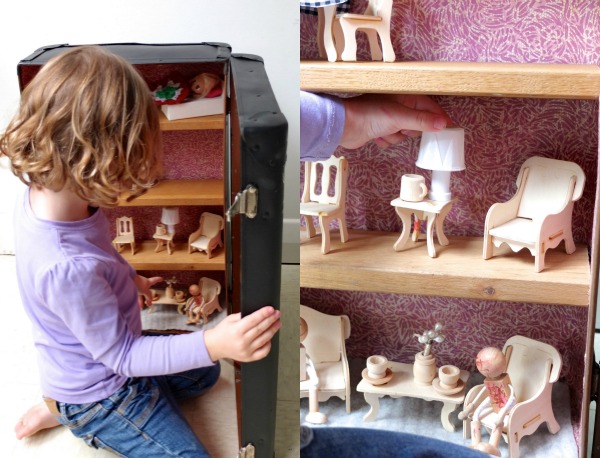 And the beauty of this Doll house is that it's portable. When you are finished playing, it's totally portable and can travel with you wherever you go.


I hope I've inspired you. Now it's your turn to get creative with an old suitcase.

Happy upcycling!
You may also like – Kids Craft: Shoe Box Doll House