Gather up your floral fabric scraps and fancy up a plain t-shirt into a unique top with some added applique blooms. Use this simple embellishment technique to personalize your wardrobe with your favourite flowery fabric prints.
Did you know that when it comes to style, it's not about being 'on trend'. Style comes down to personality, and letting that shine through.
Think about it, of all the people that you consider stylish, I bet not a single one is a clone of each other. They really are just being themselves. And you too can be stylish, simply by being yourself.
One way to be your own stylish self is by embellishing ordinary garments using appliques made from your favourite scrap fabrics.
Speaking for myself I adore flowers. I can never have too many flowers. So naturally when I went about choosing fabric to applique for the following project I chose floral motifs.
How to add a Floral Fabric Applique to a Plain T-shirt

This applique technique is easy to do and can be adapted to so many uses. It's especially great for covering up stains or small holes on your favourite garment.
Big bold floral prints are ideal for this project. You may already have some loud floral fabric that is too bold to make a whole garment with, but is ideal for using in small doses like these appliques.
Choose a fabric with clearly defined printed motifs to cut your applique designs from, which makes it easier to cut around the designs.
Any t-shirt or shirt is a suitable candidate for this refashion project. Give an old garment a new lease of life with a floral flourish!
You will need:
T-Shirt or shirt
Fabric marker pen
Thread
Sewing machine
Iron – I love using my Cricut Mini Press for these small ironing projects
Why the Cricut Mini Press is a Must Have crafting tool
The Cricut Mini Press is a small hand held craft iron that is super practical for all sorts of crafting projects.
Designed primarily for use with Iron-on Vinyl products, this little pocket sized iron has so many more uses.
With a small comfortable handle, stable safety base and 3 heat settings, it is easy to use and more convenient than a regular iron. It's also great for travel and crafting on-the-go.
I love using my Cricut Easy Press Mini for:
small patchwork piecing projects
pressing fiddly seams when sewing especially pockets, cuffs and hems
adding iron-on applique (like we have in this featured project)
making bias binding
melting small fuse bead projects
pressing iron-on vinyl to awkwardly shaped objects like shoes, hats and toys
It's a great all round craft iron that is light-weight and easy to maneuver.
Buy it here from Cricut US | Amazon
You may also enjoy these T-shirt refashion ideas:
How to:
1/ Choose a section of the floral print you wish to appliqué to a shirt. Cut wide around this floral design.
2/ Cut out a section of interfacing the same size as the floral section you just cut.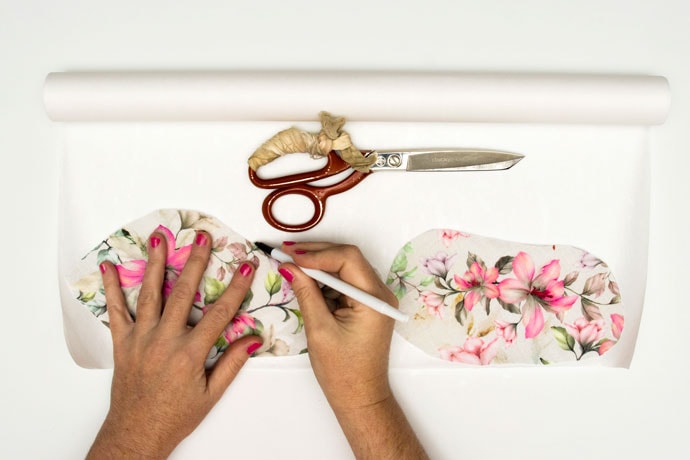 3/ Press the interfacing to the backside of the floral fabric using an iron or Easy Press Mini.
4/ Trim closely around the floral appliqué design. Take your time about this.
5/ Peel away the interfacing backing paper.
6/ Place the floral appliqué on the shirt and press down with the iron with a medium heat setting (Do not rub the iron from side to side). The interfacing will bond to the shirt.
7/ As a final step run the shirt through the sewing machine, using a basic running stitch along the edge of the floral applique. Back-stitch your sewing so the threads do not come undone.
8/ Prêt à porter. Ready to wear.