My baby is growing up, Sob!
Emma has grown out of her toddler bed and has graduated to a single bed, (you call them twin in the States). We were lucky to enough to inherit this cool vintage one from a family member in great condition.
I didn't have any single size bedding so rather than hitting the stores, it was the perfect opportunity to make use of all those thrifted vintage sheets I've been collecting, the only hitch was vintage sheets are all flat, which is a pain in the backside.
No drama, with a few easy steps, all flat sheets can be converted to practical fitted sheets.
I'm going to show you how to make a fitted sheet. And best of all, the instructions below apply to any sized sheet, so you can use this tutorial to make cot sheets right up to a king sized bed sheet.
Vintage sheets are great for this, but I if you don't tend to use the top sheets that come in a sheet set (I use a duvet without a top sheet), it's a great way to double the value of your bed linen purchase.
You will need:
Flat sheet the size of your mattress
Firm thin elastic (about 0.5cm / 1/4″ width) length will depend on sheet size
Elastic threading tool or Safety Pin
Measuring tape
Sewing machine
General sewing supplies
How to make a fitted sheet:
Gather you materials, you probably have every thing you need in your linen press and craft drawer.
This guide to bedding sizes is a great reference to help you calculate the measurements required for your sheet, but I suggest taking your own measurements of the mattress you are sewing for, as sizes and especially depths may vary.
The mattress measurements you will need are:
length
width
depth
and extra tuck under (several inches if possible but that will depend on the size of your flat sheet)
Cutting:
Fold your sheet into quarters, from the center fold measure half the length and half the width, add the depth and as much extra as your sheet will allow.
Tip: some flat sheets tend to be wider as they are designed to go over your body, so cut off the excess width so the depth + extra is same all around (marked with a X).
Cut away the square that is remaining in the corner, leave 1cm (half inch) for seam allowance (indicated with an X).
It's always best to cut a fraction bigger to allow for mattress protectors etc… You can always make it smaller but not the other way around.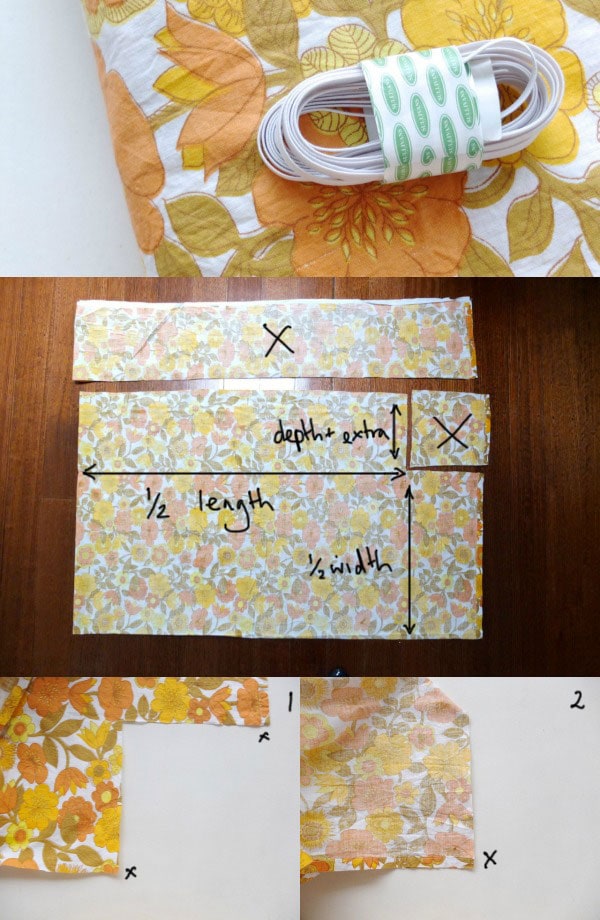 Sewing:
1. Fold over the edges of your corners matching the little x's.
2. The right sides of the sheet should be facing each other as pictured.
3. Sew a seam back stitching towards the corner and finish the raw edge with a serger or zig zag stitch. Repeat for all corners.
Tip: Try it on your bed at this stage just to make sure you are on the right track.
4. Serge or zig zag right around the raw edge of the sheet.
5. Fold over and sew to make a casing for the elastic to thread through. Mine was about 1.5cm wide (6/8″?) but it will depend on the width of your elastic. Don't make it too narrow or it will be hard to thread elastic through.
6. Leave an opening about the width of your hand.
7. Secure the end of your elastic with an elastic threading tool (pictured) or a safety pin.
8. Thread your elastic into the opening.
9. Keep feeding all the way around till you get back to the opening.
10. Pull the elastic so it gathers the edges of the sheet in like the bottom picture, but not too much that it won't stretch over the mattress. Sew the ends of the elastic together.
11. Sew the opening shut.
All done! Wasn't that super easy?
Check out how nice and snugly the sheet fits over the mattress. Bed making is such a breeze now, no more messy corners.
Emma's new big girl bed is coming together, next on the list is a duvet cover and a quilt.
So go and dig out all those flat sheets at the back of your linen press and convert them to fitted sheets, clear the clutter and save money at the same time!
Any questions? Feel free to leave a comment and I'll get back to you with an answer as soon as I can.
Related Projects – Vintage Sheet Duvet Cover
Like this project? Sign up to the mailing list and get lots of fun stuff delivered to your inbox.