Put your hand up if you have photos just languishing on your phone or laptop that never see the light of day. Yep that's me, prolific photo taker, but terrible at getting them printed.
I've sort of gotten used to not having any photos around to enjoy, but Emma, like most kids, really treasures printed photos, loves looking at them, and proudly displays them in her room. There is something tangible about holding a memory in your hand, that is really, very special.
Occasionally when Emma needs some photos for a project at school (or Mum complains that she never has any photos of us to frame), I head off to Officeworks or Kmart with my USB stick and get a batch printed out.  Honestly it's such a pain to make a special trip to the mall just for a couple of photos, but until now I didn't really think there was another option.
I've never really considered printing photos at home because my past history with printers is 'colourful' to say the least. My regular printer causes me no end of frustration (usually accompanied with copious swearing). It never connects properly to my computer, I'm always running out of ink, and printing a small photo out on a large sheet of paper is such a waste. So when Canon asked if I'd like to try out their new portable photo printer the Canon Selphy CP1200, I was a little dubious, but thought I'd give it a try anyway.
Guess what? I love my new Canon Selphy printer! AND even better news, I've got one to GIVEAWAY to a lucky reader too! Read on for details. (GIVEAWAY CLOSED)

Tried & Tested – Canon Selphy CP1200 Review
FIRST IMPRESSIONS
The Canon Selphy is really small and light. In the box you get the printer, power cord and paper tray. The paper and ink cartridge set need to be purchased separately, keep this in mind when you are making your purchase.
Set up is super simple, just plug in the printer, load the paper tray and slide in the ink cartridge. The paper and ink set contains 2 printing cartridges and 108 postcard sized (6×4″) photo papers, and the genius is that the ink is perfectly balanced to the number of prints – no running out of ink again. Depending on where you buy your ink/paper set, the prints cost around 37c each.
HOW TO PRINT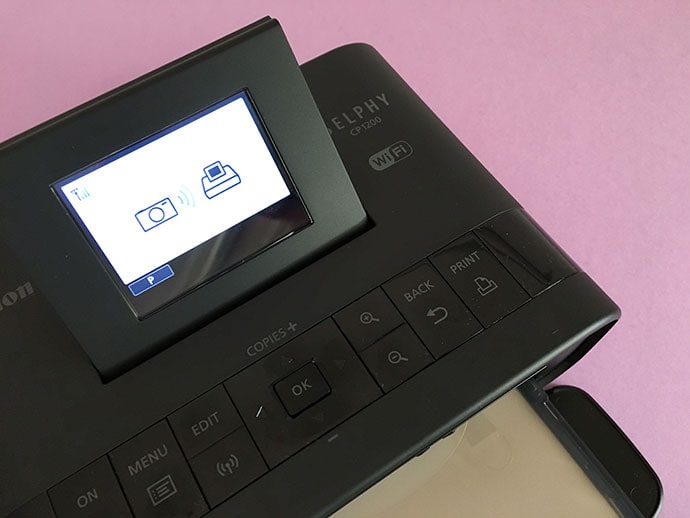 The printer is WiFi enabled which means you can transfer files remotely from your phone, camera or computer.
Normally, with other printers, I've found the WiFi set up very complicated, but the Canon Selphy was simple to set up by just pressing the WiFI button, and linked to both my iPhone and Canon camera in a couple of steps.
I tried 3 printing methods, iPhone, SD card and directly from my camera. You can also plug in a USB stick, or connect a computer via a printer cable.
Printing from an iPhone
This by far was the simplest method to print at the touch of a button. Most of my favourite photos are on my phone so, the convenience of using iPhone's Apple air print was the best! Take a look at my video above to see how easily I selected and printed photos from my phone. If you don't have an iOS device, there is a Canon print app available for use on Android devices.
The other bonus of using the phone to print photos is that you can use your favourite photo editing apps to tweak your photos, create collages or even get creative by adding graphics and stickers. It's great for those of you that love scrapbooking or Project Life. I created some collages with a free app called Pic Stitch which meant I could print several smaller images on one sheet.
Printing from an SD card
The Selphy has an SD card slot which enables you to view the memory card images straight on the small screen and select the images to print.
The screen lets you adjust the cropping and select the number of prints but editing required you to go into a different menu screen. I would only print directly off my card if I was happy with the shots straight out of the camera, or that only required minimal editing, as you need to keep in mind that the LCD screen is probably less accurately colour calibrated than an iPhone screen. I slightly warmed up this image a bit and was pretty happy with how it turned out.
The other downside of printing off a SD card is you need to scroll though a ton of images if you have a very full card.
Inbuilt editing functions include brightness, colour adjustment, red eye correction, skin smoothing, collage layout, border option, index print.
Printing from a Canon Camera
If you have a Canon camera with WiFi ability, you can connect it directly to the printer and print your photos instantly. Just like the SD card situation, you need to be pretty happy with your shot straight out of the camera as editing can be a little limited compared to the ability to correct an image on your phone.
I thought it would be fun to have some photo inception, so printed out the photo above as soon as I took it. Just like a photo Turducken, it's a photo within a photo within a photo!
The photo of my first photo had a yellow cast, as the white balance was a bit off on my camera settings.
My preferred method for printing images off my camera would be to transfer to my phone via the Canon Camera Connect app, then make the adjustments necessary with an editing app before printing with Apple air print.
PRINT QUALITY
The Selphy uses dye sublimation print technology, so that means as soon as you print is finished it is instantly dry, smudge free and water resistant. For such a small device, the print quality is surprisingly good with nice bright colours and natural skin tones. I'd say overall comparable to most instant print places I've been to, the photos really do look professionally printed with a glossy finish.
Each print takes 47 seconds, so it's not designed for high volume printing, but it's really fun to watch as the paper goes in and out of the machine making multiple passes, one for each colour, Yellow, Magenta, and Cyan, and then one for the final protective glossy film coating. The kids will love watching it.
The postcard size is just smaller than 6×4″ so keep that in mind as the top and bottom of the image get cropped slightly when you break off the end tabs. Keep that in mind when cropping images.
Canon Selphy CP1200 PROS & CONS
PROS
Convenient
Fun and Easy to use
Print Quality very good
Several device printing options
Wifi Enabled
Compact and Portable (option to purchase battery separately)
Many inbuilt functions
Paper & Ink packs very well considered
CONS
Paper size not quite 6×4″ which can cause cropping issues
Small LCD screen (not touch enabled)
Menus functions not super intuitive
Cost per print more expensive than off site printing
Paper & Ink pack not included with initial printer purchase
Black plastic shell is a dust magnet (opt for the white one)
FINAL VERDICT
I'm so in love with my Canon Selphy CP 1200 printer, and don't know how I've managed without one for this long. Even though the cost per print is about 4x more than off site printing, the convenience of having my photos instantly really is worth it for me (especially when the kid tells me she needs a photo at 7pm the night before a project is due)!
So overall a big thumbs up! I'll be using it lots from now on, and I already have some craft project ideas featuring photos in the works. Leave me a comment if you have any questions about anything I haven't covered.
Now time for a GIVEAWAY


Canon Selphy CP 1200 Printer Prize Pack GIVEAWAY – CLOSED
If you'd like to win your very own Canon Selphy Printer and Paper/Ink Pack, just leave a comment answering the following question: "How will you use your Canon Selphy printer?" I'm interested to know if you'll be crafting or journalling with your photos, using it for the kids school projects, framing photos as gifts, using them to print out your insta pics? My favourite comment will win the prize!
Terms & Conditions
The winner will be the entry deemed most creative by the judges. Entries open until 5pm 30th June, 2017. Winner will be announced in the comments below and contacted via entering email address. To claim the prize, the winner must reply to the winner notification and accept the prize within 72 hours of receiving notification or risk forfeiting prize. Prize will be posted via registered mail (after 14th July) to an Australian address. Winner's address must be supplied on request and will only be used to mail out prize. Prize not transferable for cash. Giveaway is open to all Australian residents over 16 years.
Disclosure – Thanks to Canon for providing me with this product for review purposes and a prize pack to giveaway – This post was unpaid and all opinions are my own.