There's nothing I like more than trying out new craft tools, and when it comes to knitting and crochet accessories, you can never have too many. Well that's my personal opinion anyway!
The right tools can make or break a craft project, so I'm always on the lookout for novel products that are 'game changing'. The quest to find that 'perfect' crochet hook, stitch marker or needle style is never-ending, and something, I'm sure, many of you can relate to.
I've been reviewing yarns for American Yarns for well over two years now. It's been a great relationship where I get to experiment with products that aren't readily found in Australia.
Apart from a wide variety of yarns, American Yarns also stocks some hard to get accessory brands like Susan Bates, Tulip, Boye and Clover.
Over that time, I've enjoyed trying out some new-to-me yarn accessories and thought I'd review a few from the Susan Bates range that you may find helpful.
Susan Bates is a well-known brand in the USA and is most famous for its 'in-line' style of crochet hook, which is rarely seen in Australia. Some crocheters swear by them so I was interested in giving them a go. Read on for my full crochet hook review.
I've also reviewed a new style of pom pom maker and some very ingenious yarn needles. All of the products I've reviewed are very affordably priced, and certainly worth adding to your next yarn order.
3 Must Try Yarn Craft Tools by Susan Bates
Susan Bates Finishing Needles
Who ever came up with this idea for a flexible needle with a giant eye is a genius! These needles are fantastic for weaving in yarn ends in both knitted and crochet projects.
The large eye makes them especially useful with chunky yarn. No more trying to force thick yarn through a small needle eye!
Because the plastic that the needles are made from is quite flexible, you can just open them up and easily pass your yarn though.
I find them really handy for weaving in short yarn ends that can be particularly tricky to thread into a regular yarn needle.
They'd be great for basketry and weaving projects too, especially when using raffia, ribbon or paper fibers.
Those with limited dexterity or problems with diminished vision could especially benefit from swapping to this style of yarn needle, if regular metal needles are challenging to use.
One pack contains 5 sizes. I have found the middle sizes most versatile.
My Verdict:
At $7.95 per pack of 5 they are very affordable
I consider these a MUST HAVE item in your knitting/crochet bag
Susan Bates Easy Wrap Pom Pom Maker
When it comes to making pom poms, I've always keen to try new methods and pom pom making contraptions.
'Doughnut shaped' pom pom makers are my most preferred style of pom pom making tool as I feel they create the best results with minimal yarn wastage.
I must admit I have a favorite pom pom maker which I picked up on a trip to Japan many years ago. This one by Susan Bates works on a similar principle so I was keen to compare it to others I've used in the past.
I've made a video to demonstrate how to use the Susan Bates Easy Wrap Pom Pom Maker.
One pack of pom pom makers contains 4 template sizes with each sized pom pom maker consisting of 4 parts each. That's 16 separate parts in a pack so best store them in a zip-loc bag so they don't get lost.
On each maker, 2 part have a smooth side and 2 parts have a bumpy side which when paired form a semi-circle to wrap yarn around. These 2 wrapped yarn halves then slot together to allow for the yarn to be cut and tied off.
Use this handy trick to make your pom poms extra fluffy.
The design of this pom pom maker is not elegant, but works adequately.
Size wise, I think the green and yellow makers (larger two) are most useful. The smallest white one is way too fiddly to use unless the yarn is super fine. I'd recommend a different method for making very small pom poms.
I still prefer my 'favourite' pom pom maker from Japan, but this product is a good backup and is an inexpensive option.
My Verdict:
At $6.50 for a set of 4 these pom pom maker are a bargain
Design is fiddly to use but makes adequate pom poms
Smallest size is impractical. Largest 2 sizes will get most use
Plastic is durable but be careful not to lose parts.
Worth getting if you make lots of pom poms and want to upgrade from 'cardboard doughnut'
Susan Bates In-Line Crochet Hooks
As mentioned earlier, the Susan Bates brand is most famous for its unique style of crochet hook. The shape differs slightly to the tapered style hooks I've used my whole life.
To be honest until recently I didn't even know there was a differing style of crochet hook until I stumbled onto a Facebook post asking the question "Bates or Boye?"
After a little research I discovered that 'Bates' refers to Susan Bates style 'in-line' hooks, and Boye refers to the Boye brand of 'tapered' hook.
Tapered hooks are available in many brands, are the style of hooks that most crocheters in Australia are familiar with. I've only ever used a tapered style hook so I was keen to try an in-line hook and compare the differences.
In-Line vs Tapered Crochet Hook – What's the difference?
Firstly, I thought I'd explain how an in-line crochet hook differs in shape from a traditional tapered crochet hook.
In-Line Crochet Hook (Susan Bates style):
Shaft is a consistent diameter all the way down
Hook is created by a notch in the shaft and the throat is the same thickness as the shaft
Notch creates a deep hook
Grip is closer to the hook
Tapered Crochet Hook:
Shaft tapers an narrows towards hook
Hook is offset from shaft (not in-line)
Shallower hook
Grip higher up shaft
Crochet Samples with In-Line vs Tapered Crochet Hook
The only way to get a real feel for the difference between each style of hook was to crochet a few samples.
I tried several crochet styles with the same sized hook in both styles to see how the action and gauge was affected (if at all). Here's what happened.
Initially I found that the lower grip on the Susan Bates hook felt a bit awkward, but not terrible.
I must note, that I'm trying out the Luxite (plastic) Susan Bates hooks as they came in a pack with multiple sizes (which I though was convenient for this experiment). I don't really like plastic hooks due to the 'flex' and much prefer an aluminium hook. I won't be comparing plastic vs metal hook here, more the style/design of hook.
The deeper hook/throat was not hard to get used to and I found it reduced yarn splitting. My tension felt looser as I was crocheting, so I expected my gauge to be much looser in my finished sample.
The sample above was crocheted with both an in-line and tapered hook. Can you tell which half used which?
Surprisingly the sample looks quite consistent all over, with no noticeable difference in tension once finished.
FYI – bottom left was the Susan Bates hook.
But once I changed to Amigurumi stitches, the difference in tension was more noticeable.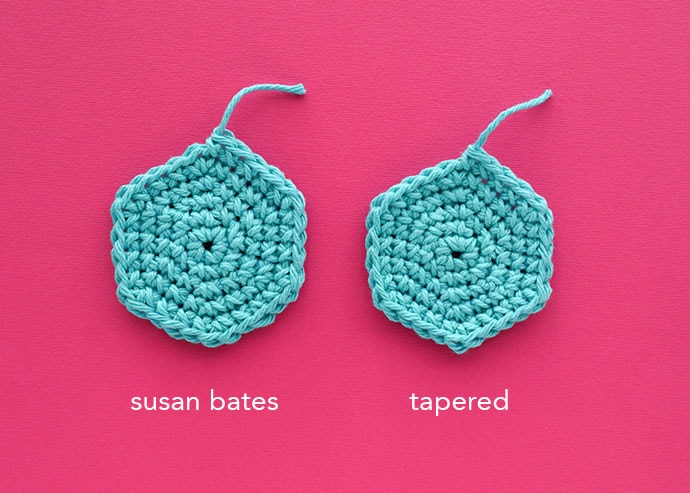 The Susan Bates hook produced slightly looser stitches compared to my regular hook, but they seemed more consistent.
My crochet tension is generally fairly tight, which I don't mind, but if you have a problem with trying to keep a consistent (looser) tensions, as Susan Bates style hook may be worth trying.
For Amigurumi you may want to go a size down in hook size so you don't get gaps between your stitches.
My Verdict:
Feels different but not hard to adapt
Easy to catch yarn with deeper hook
Good for yarns that split
Can affect gauge, creates looser stitches
May be worth trying if you struggle with a 'regular hook'
Plastic version are good for experimenting but invest in metal hook for everyday use
Also available in metal version, with or without handle
Not every size of Susan Bates crochet hook is in stock in metal version but if you are after a particular size, American Yarns can order it in as a special request.
Personally I still prefer a tapered hook, but I didn't hate the Susan Bates style hooks. If I can get my hands on some of these in a metal version down the track, I'd certainly be happy to use them.
Do you prefer an in-line or tapered crochet hook? I'm interested to hear your thoughts.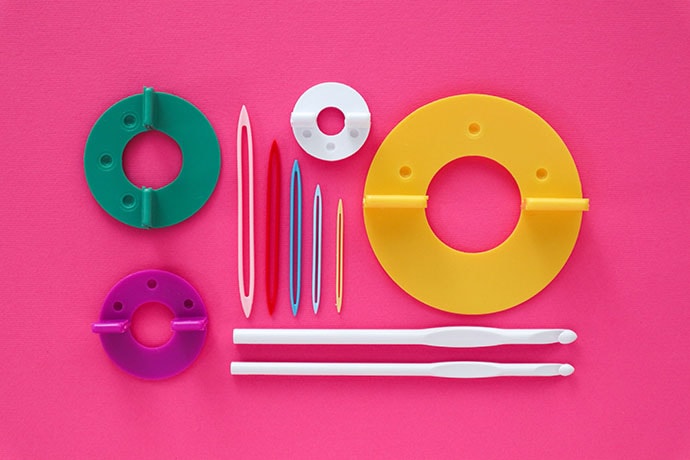 So all in all, I really enjoyed trying out these Susan Bates products.
In summary:
The Finishing Needles are a MUST HAVE. You won't regret spending $7.95 on this item.
The Susan Bates crochet hooks are worth a try, just to experience the feeling of using an in-line hook. Worth ordering in you are curious and keen to experiment with your crochet.
The pom pom maker is handy to have. Although it's not the best I've used, its doughnut design is preferable to others on the market.
You can purchase all of the products featured from www.americanyarns.com.au