Inspired by my recent patchwork clothing roundup, I thought I'd put my own twist on a patchwork t-shirt project that conveniently requires no sewing at all!
For this easy project I've used a fairly new product from Cricut – Infusible Ink sheets come in a range of colours and attractive pre-printed designs. They can be cut with Cricut cutting machines, or even by hand.
I'm always coming up with ways to reduce craft supply waste. This patchwork t-shirt project is an ideal way to utilize little scraps of Infusible Ink sheets left over from other bigger projects.
Instead of sewing little scraps of fabric together to make a design, I've put a twist on the traditional patchwork block and pieced it together with colourful Infusible ink sheets.
Cricut was kind enough to send me some product samples to experiment with, and as I'd already made Infusible Ink Ceramic coasters, I thought it was time to try making my own t-shirt.
What is Infusible Ink?
Cricut Infusible Ink is a heat sensitive ink transfer product. The ink is built into a paper sheet that when heated to an appropriate temperature, turns to gas. The process of turning a solid into a gas is called 'sublimation'.
The gasified ink then fuses with the base material as it cools, dying it permanently.
Infusible ink is a printing process that dyes the compatible base material, rather than printing or adhering to the surface.
Base materials need to be compatible and results are most effective with fabrics that are rich in polyester. The colours will appear most vibrant on light or white bases.
For best results, Cricut recommends using Cricut t-shirt blanks as the fibre content has been especially formulated for compatibility.
The transfer process will still work with other polyester rich fabrics, so feel free to experiment with whatever you have on hand.
You can find more tips for best results using Cricut Infusible Ink here.
How to make a Patchwork T-shirt with Cricut Infusible Ink
Show off your love of patchwork by printing a classic patchwork block onto a t-shirt. Make it as colourful as you like, or keep it simple if you are a minimalist at heart.
Unlike vinyl iron-on, the Infusible Ink design stays stretchy and flexible, making this t-shirt super comfortable to lounge around in.
I've designed my 'patchwork block' in the cricut design space, but feel free to use your creativity and design a block of your own.
You can even hand cut a design if you are feeling adventurous!
You will need:
How to:
Prepare the Patchwork design
1. Open up Patchwork T-shirt Design in Cricut Design Space. Adjust the shapes to any colours you desire. Remember that each colour will require a separate cutting mat. The design is already correctly sized for an average ladies t-shirt, about 20cm wide. You can adjust the sizing as required.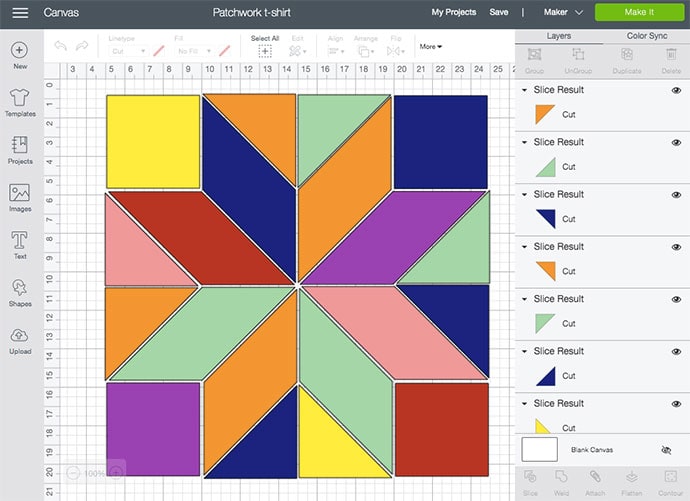 2. Click 'Make it' then arrange the individual shapes as required to maximize any scraps you may be using. Use the measurements on your cutting mat as a guide to the layout.
Make sure you MIRROR the design when using Infusible ink sheets. In this case it's not that crucial as the design is symmetrical, but if you have any lettering included in your design it will iron on backwards if the cut is not mirrored.
I've used 7 colours in total for this design, which corresponds to 7 mats. You can reduce the colours on the design if you wish.
3. Cut Infusible Ink transfer paper on a Standard Grip Mat with a regular fine point blade. Follow mat loading instructions as prescribed by Design Space program.
4. Remove from mat and trim off excess paper. Weed shapes by rolling cut out design slightly and removing excess paper with hands or tweezers.
5. Now the fun begins! Carefully patchwork the pieces together using the adhesive carrier backing to hold the pattern in place. Use the original Design Space layout as a guide (remembering the shapes are mirrored).
Tip: Avoid touching the Infusible Ink paper surface with your hands as oil and moisture can affect the transfer quality.
IDEA! Instead of using a cutting machine, you can cut any Infusible Ink paper scraps that you have left over from other projects by hand and stick them together with heat proof tape or spare adhesive carrier sheets.
Prepare the t-shirt blank
6. Insert Easy Press Mat inside t-shirt and position sheet of cardstock on top to protect your mat and back of t-shirt.
7. Use a lint roller to remove and fluff, dust or threads from the front of your t-shirt
8. Do not skip this step. Place a piece of butcher paper on the front of the t-shirt and preheat application area to remove moisture and wrinkles.
Cricut EasyPress 2 to 385°F (195°C) and preheat for 15 seconds. For original Cricut EasyPress and Cricut EasyPress Mini settings, refer to Cricut Heat Transfer Guide.
Use even, light pressure.
Apply the patchwork design
9. Once t-shirt is fully cooled, place Infusible Ink patchwork design face side down. Try and make sure it is centered.
10. Cover design with butcher paper larger than Cricut EasyPress heat plate and then press at 385°F (195°C) for 40 seconds. Try to apply even pressure without moving the press.
11. When beep sounds, slowly lift press. Try not to move the design, including butcher paper. Let your project cool. Once cool, slowly remove butcher paper, then slowly remove the liner with design.
All done!
The finished colours appear much more vibrant once ironed on to the t-shirt. The paper sheet's colouring is not indicative of the finished colour and initially appears much lighter than the final vibrant result.
My print turned out slightly blotchy as I don't think I applied even pressure over the whole design as I pressed. But I actually don't mind it.
The print looks sort of tie dyed and the fading gives it more of a vintage feel.
I can't wait for Spring so I can show this new patchwork t-shirt off.
Looking forward to spreading my crafty vibes!