I'm not a yarn snob, but there is something so luxurious about working with beautifully spun pure merino wool that makes every other yarn experience pale in comparison.
As soon as I laid my hands on these deliciously squishy balls of DMC Woolly 5 yarn from American Yarns, I was in love!
Not only is it super soft and squishy, the colour range is just glorious.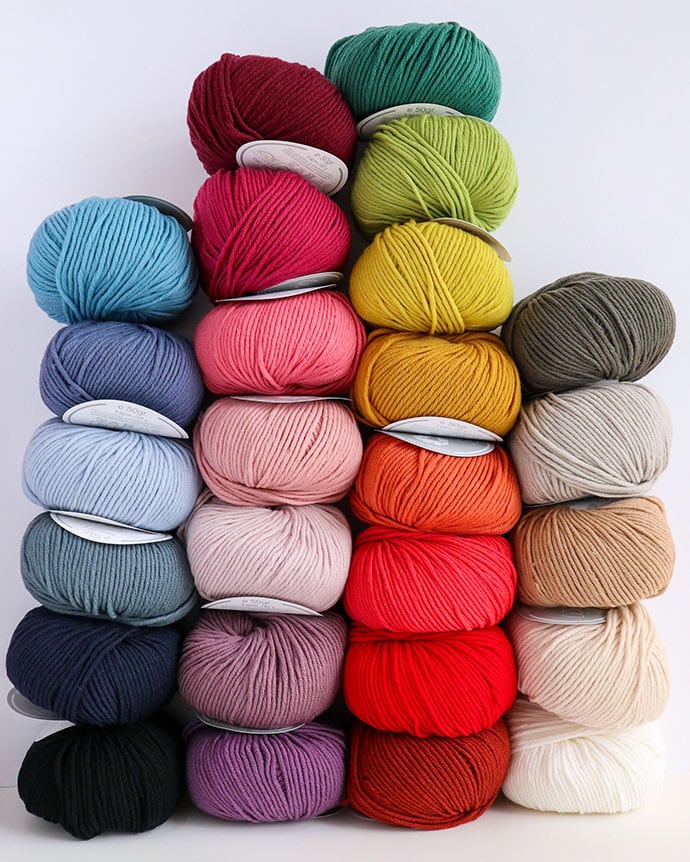 Every colour is just so perfect, rich and vibrant, yet subtle at the same time. The whole range can mix-and-match effortlessly, making choosing colour combinations so easy.
When I saw how beautiful all these yarn colours looked together, I knew I had to create a pattern that really showcased the colour range. I wanted to make a simple knitted baby blanket that was all about colour!
Hence the name Hello Rainbow! Get the full pattern after my yarn review.
You may be familiar with the DMC company for its range of embroidery threads, but it turns they also make yarn.
In a slight departure from stocking only 'American' yarn brands. For the first time, American Yarns is dipping its toes into a more luxurious yarn range that they usually sell.
I wouldn't consider this range super high-end, more like everyday luxury.
If you are generally accustomed to knitting or crocheting exclusively with acrylic yarn, I would highly recommend you treat yourself to the pleasure that is DMC Woolly 5.
This yarn is perfect for knitted garments, crochet blankets and anything that requires contact with skin. Did I mention it was soft. So, so, soft.
I didn't find any down sides except that it's loosely plied and can sometimes split, but that was just a minor nit-pick.
To be honest, after knitting with this yarn, I'm going to find it hard to go back to more 'budget' ranges.
Currently on sale for around $7.99 a ball, it's actually quite affordable. But be quick, I've been told that supplies are limited at that price.
About DMC Woolly5 Yarn
DMC Woolly 5 100% pure superwash Australian merino wool spun in Italy. Incredibly soft and squishy, with a special spin that gives the yarn volume, softness and extra bounce.
An 8ply yarn available in 26 fashion forward shades.
Available in 50g, 80m balls.
Recommended hook/needle size is 4.5mm/5mm
Care instructions – Gentle machine wash on wool cycle, or hand wash. Dry flat in shade.
In stock for a limited time at American Yarns
Hello Rainbow! Baby Blanket Knitting Pattern
Who doesn't love a rainbow! A cheerful rainbow blanket makes the perfect gift for any newborn, girl or boy.
This very simple to make garter stitch knitted baby blanket is so joyful with its vibrant rainbow hues, and deliciously squishy texture. It's sure to become a family heirloom.
The knitting pattern is a doddle, and is perfect for beginners. No fancy stitches required, just let the beautiful yarn do all the talking.
If you know how to cast on, knit a plain knit stitch and then bind off, you can make this blanket.
Of course you don't have to use the colours I've suggested. Pick any of your 8 favourite colours from the DMC Woolly 5 range.
This blanket is ideally sized for use in a bassinet, or pram. And the breathable merino wool is prefect for snuggling all year round.
Finished size (unblocked): length 90cm (35.5″), width 65cm (25.5″)
To make this Rainbow Knitted Baby Blanket
You will need:
8 balls DMC Woolly 5 in the following colours from top to bottom: Watermelon 05, Blossom 42, Coral 10, Gold 95, Cornflower 82, Spring green 89, Jade 08, Topaz 73.
5.0 mm (US 8) 100cm (40″) circular needles (I use this interchangeable set)
Yarn needle
Scissors
Knitting Stitches used:
CO – Cast on
K – Knit stitch
BO – Bind off
Gauge (approx) 14st and 30 rows in 10x10cm (4″x4″)
Note: I knit with quite a loose tension, you may need to adjust your needle size to match the correct tension. As the blanket progressed I found that my tension loosened as the weight of the blanket pulled down on my stitches. Each ball of yarn should be sufficient to make 30 rows with a small piece to spare. If you are finding that you are running out of yarn before the 30 rows, you may need to tighten your tension by using a smaller needle size, or reduce the amount of rows per stripe to 28.
Knitted Rainbow Blanket Pattern instructions:
With first colour CO 90 stitches loosely.
Knit 30 rows of each colour (in order listed above), making sure to always switch colors on the same side.
After knitting the last color, loosely bind off.
Weave in the ends as neatly an invisibly as possible.
All done!
Tip: Number your balls of yarn in your desired knitting order, which makes it easy to grab the next ball in the correct order. To make row counting easier, each ridge of garter stitch is made up of 2 rows.
This garter stitch blanket works up quite quickly. Even if you are a beginner knitter it will probably only take you a couple of weeks to make this baby blanket knitting pattern.
I found that I could comfortably knit one colour stripe per evening, so this is a fairly quick to knit baby blanket that makes the perfect gift for a special friend who is expecting soon.
Don't knit? Try these crochet baby blanket patterns instead:
DMC Woolly 5 yarn is available from www.americanyarns.com.au