Pumpkins, pumpkins everywhere! It seems the internet can't get enough of pumpkin crafts!
I've seen all sorts of clever variations on pumpkin decor, including crocheted, knitted and fabric pumpkins, as well as beautifully painted pumpkins for Halloween and Fall decorating.
Well, not to be out done, I thought I'd put my own recycled twist on pumpkin crafts. I've got a great little idea that not only looks cute, it's practical too!
I love making these very handy Plastic Bottle Gift Boxes whenever I come across an empty Coca Cola bottle. We use them at home to store lots of small items. While I was packing some of Emma's small LEGO pieces into one, I realized they look a lot like little pumpkins.
A pumpkin craft idea was born.
These little Plastic Bottle Pumpkins make great gift boxes for Halloween treats or Thanksgiving party favors. Fill with small toys, or wrapped candy to give as gifts.
Make them even spookier by adding a Jack-o-Lantern face to the front!
Not only do they make great gift boxes, these mini pumpkins also look good as part of a table settings or centerpiece decoration. Use a marker or paint pen to write your guest's name, for a fun place setting name idea.
I've painted mine in tones of orange and brown, but you can get creative and paint your pumpkins any colour you wish.
If you don't have time to wait for paint to dry, just leave the boxes clear and place an orange napkin inside the gift box instead.
Because photographing clear plastic is kind of difficult, I've created both written instructions with pictures, as well as a video showing you how to cut the bottle properly. It's quite simple really, and once you get the hang of it, you'll be making these little containers all the time.
More Halloween Craft Ideas:
How to make a Pumpkin Gift Box from a Recycled Plastic Bottle
You will need:
Clean Plastic Coca Cola brand bottle – this shape seems to works best
Craft knife
Scissors
Rubber band
Small hole punch – Smaller hole than regular hole punch is recommended.
Wax pencil or marker
Orange acrylic paint
Paint Brush
Brown Felt scrap rectangle 3″ x 0.5″
Craft glue
Handy Hint – Try to get hold of a hand held hole punch that makes small holes. I have one that punches tiny heart shapes and it's perfect for this project. Regular sized hole punches will leave an unsightly large hole where the flaps fold over.
How to:
1. Wash out and dry the plastic bottle. Remove label. Place a rubber band around the narrow part of the bottle base.
2. Mark a line about about 1cm (1/2″) from the bottom of the label section.
3. Cut the bottle along the line. Start with a craft knife and once the hole is big enough, continue cutting with scissors.
4. Coca Cola bottles have 10 ridges around the bottle. Cut every second ridge down to the rubber band, You will now have 5 little flaps.
5. Remove the rubber band from the bottle base and cut the corners off each flap. They should now look like little petals.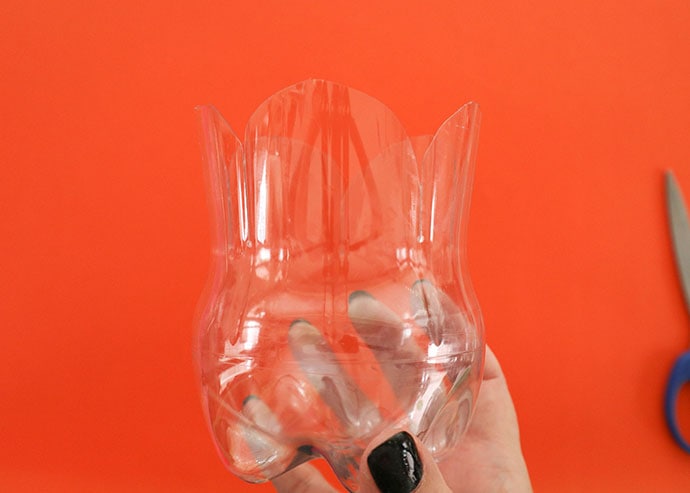 6. With your hole puncher, punch a hole in the base of each cut. This helps the flaps fold over each other easier later on.
7. To close, simply fold each petal down. The shape of the bottle magically holds the petals in place and it's surprisingly secure.
8. Squirt a small amount of paint inside the bottle box and paint the inside. Depending on the paint, you may need a couple of coats. Allow to dry thoroughly between each coat of paint. If using a hairdryer to speed up drying, use the cool air setting as hot air may deform the plastic.
9. To make the pumpkin stalk, roll up the felt strip and secure with a drop of glue.
10. Glue stalk onto the top of little plastic bottle pumpkin.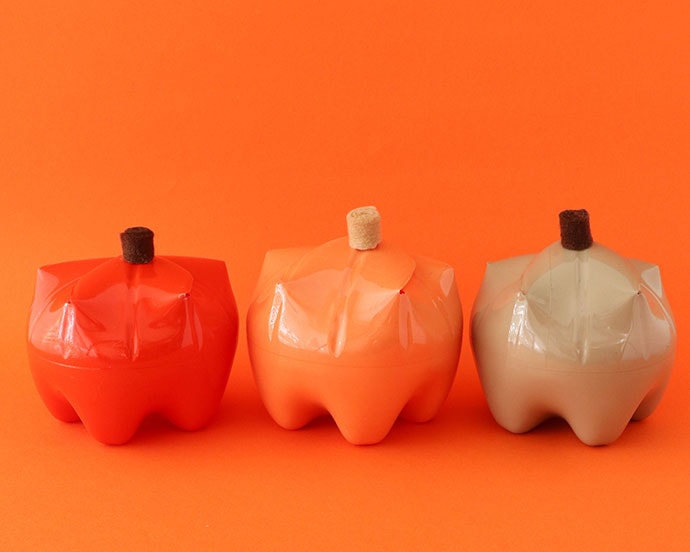 11. Fill with little toys, gifts or wrapped sweet treats. Because the paint on the inside may not be food safe, ensure anything edible is wrapped, or alternatively, line the box with a paper napkin before adding unwrapped sweets or candy.
What do you think of my little pumpkins? Cute aren't they!
Pop over to this post to see how I've used this same plastic bottle upcycling technique to make festive packaging for food gifts at Christmas time.
LOVE IT? PIN IT!