We have a new addition to our little family…Meet Perty, my, *cough* I mean Emma's new Blythe doll.
I thought it was a great opportunity to pick up a Blythe doll whilst in Japan, as they can be quite expensive here in Australia as you need to purchase them online (shipping is always a killer). I was looking out for an inexpensive second hand doll, but was lucky enough to be able to buy this one new at Junie Moon, a Blythe emporium in Tokyo. (I'll tell you all about that soon).
She is a Simply Chocolate, but to save money, and because I had no luggage space, I purchased her un-boxed and undressed.
I thought I was buying a display model (hence the inexpensive price of around $80), but was quite surprised when the sales girl opened a new box and carefully de-robed her. She was left with only a pair of knickers and some tissue paper to keep her warm.
I suppose they will on sell her outfit easily enough. I'm looking forward to sewing up a brand new wardrobe for Perty, although I need to get her some shoes…
I hand stitched this mod inspired green dress the other night as a little experiment and was quite pleased at how it turned out. Emma thought it was pretty.
Matches her eyes (at least one set any way!). You can find the basic pattern for it here, although I'm never one to follow a pattern, so I've put my own twist on it.
After a visit from Hettie a little while back, Emma has been enamored with these dollies. Every time she saw one in a magazine or on the nets she would get super excited and yell out 'There's Perty, it's Perty!' (I think Perty came from a cross between pretty and Hettie). She would constantly ask me to show her pictures of Perty, so being a good mum (who enjoys making dolls clothes) I thought it was time for us to have one of our very own.
Because Emma is only two, some may think that $80 doll is a little bit extravagant. I thought long and hard about it, and after a discussion with Mr Man, we both agreed that it's good for kids to have a couple of really special toys/things that need extra care. I think it helps teach responsibility. At this stage we play with her together. There are rules about not poking her eyes, or pulling the eye cord, but I'm not too fussed if her hair gets messed up or she is flung about a bit. They where dancing together before.
After all, the Kenner dolls were originally designed for girls to play with , so I'm thinking a little bit of dancing and some tea parties aren't gonna hurt.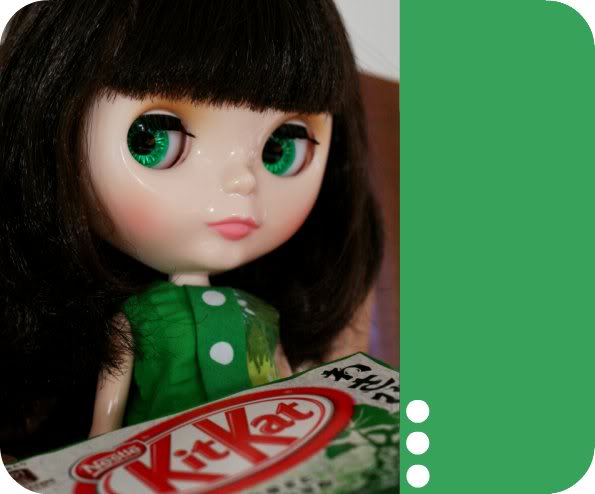 Here she is holding some Wasabi flavoured Kit Kat, that should ward off any home sickness for Japan (and clear the sinuses in the process!)
www.mypoppet.com.au