I love to give handmade at Christmas, but the truth is unless you start your present making early, it's easy to run out of time once December rolls around.
I've got the perfect solution for a unique handmade gift which is super practical too – TEA TOWELS!
These aren't your plain old boring tea towels though, they are like mini works of art. With Spoonflower you can order fabric to be printed with your choice of designs from 1000s of indie designers or you can even create a design yourself. It doesn't take long to hem the fabric edges so it's a quick and easy handmade gift.
But tea towels aren't just useful for washing up, I've framed some really pretty ones to hang on my wall, and they make great eco friendly wrapping too.
Inspired by Furishiki, Japanese fabric wrapping, I've hemmed up a bunch of tea towels and used them to wrap some small gifts. It's doubling up the joy with zero gift wrapping rubbish to throw away.
I chose 6 designs that felt festive and summery with a retro twist. Each design is printed on a fat quarter of Linen Cotton Canvas Ultra fabric.
I can't pick just one favourite, but I'm pretty enamored with the seafood teatowel, and the Kitchen friends calendar.
How to make a Tea Towel
You will need:
1 fat quarter of Linen Cotton Canvas Ultra fabric (or alternative).
Scissors or Rotary Cutter, Ruler and cutting mat
Iron
Sewing machine
Denim needle (optional)
Rolled hem foot (optional)
Matching sewing thread
General sewing supplies
How to:
1. Order a tea towel Fat Quarter design from Spoonflower and wait patiently for it to arrive. Alternatively you can use a fabric from your stash (cotton drill is a good choice).
2. If the tea towel will be for personal use, give it a wash. If you are making for a gift, you may want to skip this step as some darker designs can fade slightly. Once dry give it a good press.
3. Square off the edges with a rotary cutter and ruler. You can also use scissors.
4. Use your Rolled hem sewing machine foot to make a narrow rolled hem on the long sides of the tea towel. The small hem requires less fabric so your tea towel doesn't end up too narrow.
Tip: I found the Linen Cotton Canvas Ultra fabric quite robust and a little tough to sew once there were a few layers. A denim needle helped pierce all the fabric cleanly.
5. Press a double fold hem on the top and bottom of the tea towel (short sides). About 1cm should be fine. Stitch down and press to finish.
Now you've made a Tea Towel!
Tea Towel Furoshiki – An Eco Friendly way to Gift Wrap for Christmas
Now comes the fun part, using the gift you've just made to wrap another gift. It's like gift giving inception. Mind Blown!
Traditional furoshiki cloths are large, square and made from fairly thin fabric, which makes them very adaptable to wrap and carry almost anything. With a tea towel you are more limited with wrapping styles, but with the help of some yarn, string and twine, I've managed to wrap six small gifts in unique and interesting ways.
Take a look at this Furoshiki Wrapping Guide PDF by the Japanese Ministry of the Environment.
Here are the gifts I've wrapped, can you pick which is which?
I've come up with my own wrapping styles, to best suit each gift and fabric design.
Bon Bon Wrap
Perfect for cylindrical gifts and a very festive way to wrap a Christmas gift.
Just place the object on one of the short sides, roll up and tie off each end with a ribbon.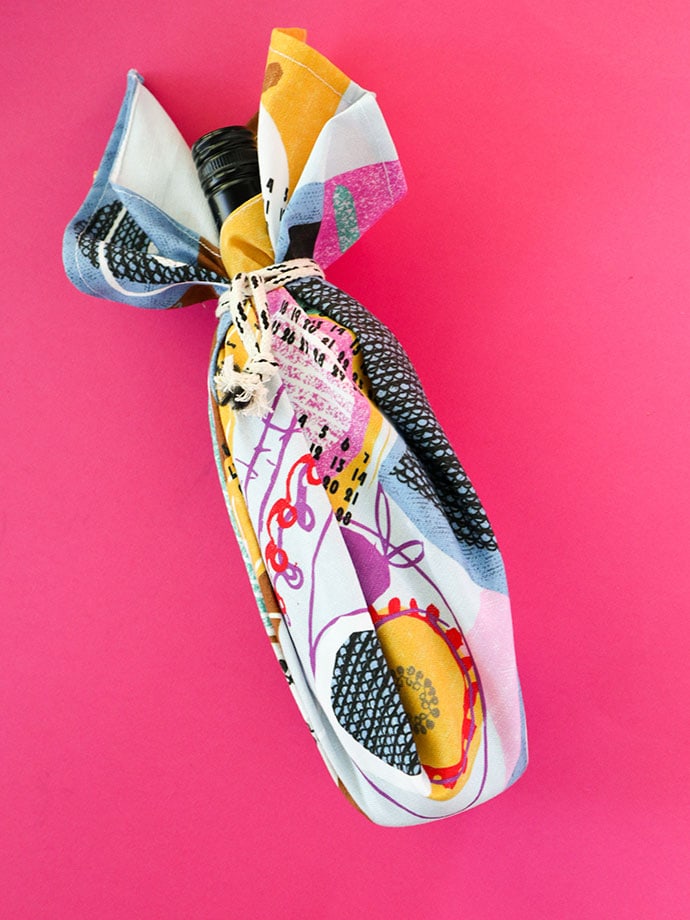 Wine Bottle Wrap
Stand your bottle up in the center of the tea towel and pull up the sides to gather around the neck of the bottle. Fasten with a ribbon or cord.
Envelope Wrap
Perfect for a book, small dish, or any flat rectangular object.
Place the object on one of the short edges and fold in the long sides. Roll up and tie with a cord to fasten. I've used my handmade candy cane fabric twine.

Envelope Wrap Diagonal
Same as above but place the item diagonally in one corner.
Box Wrap
Perfect for small boxes or tins.
Place box in center of tea towel with the straight sides of the box aligned to the corners of the fabric. Firstly pull up fabric on 2 opposite corners and tuck in over box, then tie off the remaining corners.
If it's a small box you should have enough fabric to make a knot. Use a ribbon, rubber band or string to fasten the corners if wrapping a larger box. I've added pom poms for extra fun times!
I hope I've inspired you to make your own unique tea towels and use them as eco friendly wrapping these Holidays.