Today I'm showing you how to make harem pants, the easiest pair of pants ever! With only two cuts and two seams, you can make a pair of trendy harem pants from any old tank top or t-shirt.
These pants are so comfortable to wear and allow for lots of movement, so they are great for babies and toddlers in nappies.
Bigger kids will love them too, especially in summer as they are quite breezy, and because there is no front or back, kids can just pull them on without any fuss.
This is quite a unisex style and depending on the fabric will look great on both boys and girls. I made this pair for Emma as a cropped style and she wore it quite a lot during Summer. They were perfect to wear on holidays, especially after swimming.
I've called them Acrobat Pants as they allow for unrestricted movement, perfect for active kids.
The Thrifty Kid: List of clothing refashion tutorials
How to make Kids Harem Pants from a tank top
How to choose a garment for this project:
Style – T-shirt or tank top with side seams and hem in good condition
Fabric – Stretch fabric knit or jersey which may have some spandex. Lightweight fabric will gather best at waist.
Sizing – Large and XL sized tops are best suited for older kids. The larger the top, the longer and wider your pants will be. A shorter top will result in cropped pants. Smaller tops will make great baby sized pants.
Garment features to keep
Side seam and bottom hem – This top will only require two main seams so it's super quick to whip up.
Supplies:
Suitable tank top or t-shirt
A pair of old leggings that still just fit your child to use as a template
Elastic for waistband (2cm/1″ wide and the length of your child's waist)
Scissors
Large safety pin
Sewing machine
Stretch/jersey needle for sewing machine is recommended
General sewing supplies (thread, pins etc…)
Note: I've used a normal sewing machine to make these pants. You will need to set your stitch to a medium length very narrow zig zag which will allow the fabric to stretch without breaking the stitches. Here is a handy post about sewing knits with a zig zag stitch, don't worry about fancy sewing machine feet at this stage, your normal foot will work fine.
How to make Harem Pants from an adult top:
Yellow dotted line = Cut
Red dotted line = Sew
Cutting
1. Cut across the top just under the arms and a semicircle to form two legs. The top of the semicircle should be over the knee. Use a pair of leggings or pants to use as a guide. The front and back of these pants will be the same.
Sewing
2. With garment inside out, sew inside leg seam. You can either use a narrow zig zag stitch, or because this seam will not have much pull on it, a straight stitch is ok. That's what I've used here. Make sure to back stitch neat the hem so the seam doesn't open up near the cuffs.
Waistband
3. Measure the width of the waistband elastic against the top of the pants, this will give you a guide as to how much fabric you need to fold over.
4. Fold the top of the fabric inward (to the inside of the pants) and with a narrow zig zag sew all the way around leaving about a 3″ gap to feed elastic through.
5. Attach large safety pin to one end of elastic and feed through waistband. Take care not to lose other end into waistband as you pull.
6. Sew elastic ends together securely. Make sure the elastic isn't twisted.
7. Sew gap closed.
All Done! I told you these were easy to make.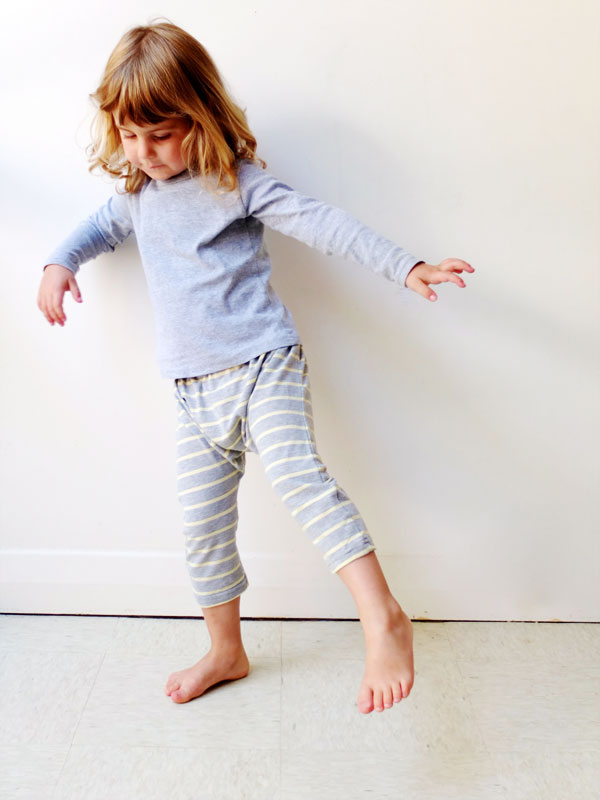 That was actually only 2 main seams, that's almost no sewing at all.
Have a go at making a pair of these. Striped and patterned tops make super cute and very trendy pants, so keep an eye out at the thrift store for fun patterned tops that would make great harem pants.
I hope you've enjoyed this tutorial. There are plenty more refashions to come in The Thrifty Kid series so stay tuned.
x Cinti