A fun Easter craft project to enjoy with kids, this adorable Easter Bunny Gift Box is so easy to make. Fill it with tasty Easter treats and give as a thoughtful gift, or use it to store special treasures all year round.
With Easter fast approaching, it's time to gather your craft supplies and make some cute craft projects to give as gifts to friends and family.
This little Easter Bunny Gift Box was inspired by a collection of animal gift boxes that I created for my book Make in a Day: Crafts for Kids. The publisher loved the project so much that they put the animal face gift boxes right on the cover!
In the book I made a panda, tiger and elephant. Now I can add a bunny rabbit to the collection.
As Easter crafts go, this one is super easy, and can be made by kids of all ages without too much difficulty.
Kids will have fun painting the boxes, then gluing on cute embellishments. The hardest part is waiting for the paint to dry.
This cute little Easter gift box can be filled with edible treats, or if you prefer to give non-chocolate gifts, they also make the perfect receptacle for gift cards, hair accessories or costume jewellery.
You may also enjoy:
Let's Make a Cute Easter Bunny Gift Box
You'll only need a few basic craft supplies to make this adorable bunny face gift box. Gather together some felt scraps, pom poms and confetti from your craft stash to make this fun Easter craft.
I've used a blank round papier-mache cardboard box to make this project, but you could recycle any round container you have on hand to use instead.
If you have paper or dried flowers on hand, they would look lovely in place of the confetti to make a floral crown.
A little scrap of lace or a small bow would also make a cute embellishment.
I've painted my bunny gift box a peachy orange to match the felt scrap I had on hand, but you can choose to paint your bunny in any colour you wish.
If you don't have pom poms at hand, the cheeks also look just as cute painted on, or cut from pink felt scraps.
You will need:
Acrylic paint (your choice of colour)
Paint brush
Felt scrap (colour to match paint)
2 x googly eyes
Confetti or small paper flowers (optional)
Black marker
Scissors
Paper clips (optional)
How to:
1. Paint the round cardboard box lid and base with 2-3 coats of acrylic paint in your chosen colour. Allow to dry between coats. You can speed up the drying process with a hair dryer if you need to. Once dry set aside the base as you'll only need the lid for the following steps.

2. Draw a Y shape onto the lid of the box with a black marker. This will be your bunny's nose.

3. Glue on glitter pom poms for cheeks on each side of the Y shape, and glue on eyes directly above each pom pom to finish bunny face.
4. Cut 2 identical ear shapes from felt. At the base of each ear cut a little slit no longer than the height of the edge of the box lid.
5. Pinch the base of each felt ear shape and spread out the little flaps at the bottom. Glue ears on firmly to the lid edge above the eyes. You can use a paper clip to hold on the ears until the glue dries if required.
6. To add a confetti or flower crown to bunny, run a line of glue across the top of your bunny face from ear to ear.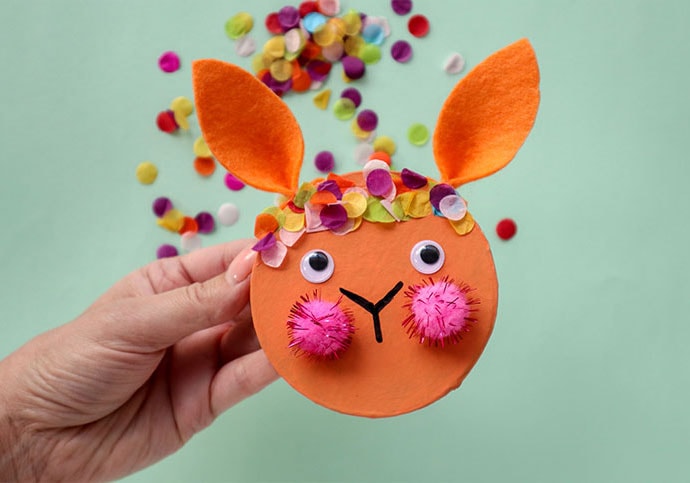 7. Sprinkle confetti over the glue, or stick on flowers to make a colourful crown.
Now your Bunny Gift Box is ready to fill with Easter treats! Line the box with a bit of shredded paper to make a little nest, then add chocolate Easter eggs or small non-edible gifts to make a really special gift.
This project was designed exclusively for care.com by My Poppet