Make a Giant Crochet Snowflake ornament with sparkly Caron Simply Soft Party yarn this Christmas. These crochet snowflake patterns are quite striking worked up in bright festive colours.
It's Summer during the festive season in Australia. Even though you'll find us donning shorts and sunscreen on Christmas day, rather than an 'Ugly Christmas Sweater', it's common to decorate with traditional wintry themes and ornaments.
It seems that Australians are always dreaming of a white Christmas!
You may also enjoy these Christmas crochet projects:
As soon as I saw this glittery Caron Simply Soft Party yarn from American Yarns, I knew that it would be perfect for some Christmas crochet.
I don't normally go for metallic yarns, but you can never have too much glitter at Christmas time, so I was all in!

The sparkle from the lurex thread in the Caron Simply Soft Party yarn is subtle enough not to be too garish, but still glittery enough to feel festive. It's hard to capture in the photos, but it glitters quite prettily when the light catches it.
The Simply Soft Party yarn comes in a range of colours, with the lurex matching the yarn for all colours except the grey which is called 'Silver Sparkle'.
Silver sparkle is my favourite, because the sparkle has a rainbow effect.
The yarn itself is quite soft with a lot of drape, so it's quite nice for making shawls and scarves. Objects that need to hold their shape, not so much.
That wasn't a problem though, because I used a method to stiffen crochet that worked perfectly to make these Giant Crochet Snowflake ornaments.
There are literally hundreds of amazing free crochet snowflake patterns available online. Rather than reinvent the wheel and try to design an original pattern myself, I found three that I really liked and made those instead.
It doesn't matter what size of yarn and hook the original patterns use (most of them are written for tiny hooks and embroidery cotton), because the patterns look great made up in giant form, with thicker yarn.
The most important step to get a really nicely defined snowflake shape is to block and stiffen well. That means you need to pin out the shape of the snowflake when wet (with glue) and let it dry. More about that later.
Look at the difference that proper blocking and stiffening makes to the final result.
On the left is the unblocked crochet snowflake pattern straight off the hook, on the right after I've blocked and stiffened with glue. What a difference!
To crochet the various giant snowflakes
You will need:
Crochet Snowflake Patterns used:
The designs look complicated, but that are actually all quite easy to follow. I'd recommend them for an intermediate crocheter or advanced beginner, as there are no pictures, just a written pattern.
(Although Saraphir does sell her patterns with step-by-step pictures in the Saraphir Etsy store if you need extra help).
Once you crochet your snowflakes, it's time to stiffen them.
You'll only need a few basic supplies, but the stiffening process took much longer than I expected, so allow a couple of days for this next step.
How to make a Crochet Snowflake Stiff
There are many methods of stiffening crochet including using products like liquid starch or wallpaper paste. I had PVA glue on hand so thought I would give it a try as a stiffening agent.
Because the snowflakes are quite large, they need something that is quite strong to hold their intricate shape. Using glue actually worked quite well and was the ideal product to make these crochet snowflake ornaments hold their shape nicely.
You will need:
Crocheted snowflakes
PVA glue (white school glue)
Bowl
Water
Pins
Styrofoam board
Thread for hanging
Paintbrush
Hair dryer (optional)
How to:
1. In a large bowl mix 3 parts PVA glue with 1 parts water. Stir well to combine.
2. Soak crochet snowflakes in glue mixture, making sure the glue soaks right through all the yarn.
3. Gently squeeze out some, but not all off the liquid. If you squeeze out too much you will not have enough glue left in the fibre to harden the crochet snowflake.
4. Lay out snowflake on styrofoam board and pin into shape. Make sure you stretch out the piece well and pin all the little details in place too. You'll need many, many pins.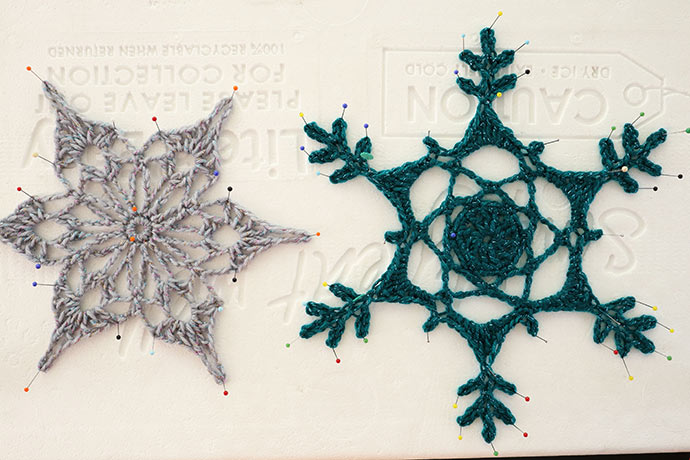 5. Allow to dry fully. This may take several days depending on the climate. To speed up the process you can place them near a central heating duct or use a hair dryer set to medium.
Don't over-heat or place near a radiant heater, as the acrylic yarn, or polystyrene could melt.
6. Once the snowflake shapes are fully dry, remove the pins. Reinforce the back with extra glue if required and allow to dry. The glue will dry clear.
Tip: I found that the snowflake shapes that had spindly branches needed a little extra reinforcement as the weight of the yarn made them sag. If you find that this happens to yours, flip the crochet snowflake over, and paint undiluted glue onto the back where you need extra support.
7. Add a hanging loop and your giant crochet snowflake is ready to sparkle.
You can also omit the hanging loop and use the snowflakes as a table decoration. Lay several out as a table runner for a festive setting on Christmas day. They make great little place mats.
Hang from a branch for a minimalist Christmas tree alternative, or make a heap to string together into a garland. The options are limited only by your imagination.
I hope you enjoyed this festive crochet project.
All yarns featured are available from www.americanyarns.com.au