This simple wash bag pattern is easy to sew and makes a very practical gift. It's quite roomy and can hold plenty of toiletries, make-up or any bits and pieces. Depending on the fabric choice it would make a suitable gift for a woman or man.
St Kilda Mums is a wonderful non-profit that helps rehome new and pre-loved baby goods and nursery equipment to families in need. I've donated baby goods to them in the past and have great admiration for the work they do.
With Mother's Day coming up, they have put a call out for Toiletry Gift Packs to distribute to mothers that need some support. It was the perfect excuse to get sewing with a purpose, so I've made some Zippered and Lined Wash Bags that can be filled with toiletries and given as Mother's Day Gifts.
I've included the make up bag pattern and instructions so you can make one too. It can be for yourself, your mum, a friend or to send to St Kilda Mums.
See the bottom of this post for more information about St Kilda Mums' One Mother to Another initiative.
You will need:
Sturdy fabric for outer (I've used upholstery weight fabric from Ikea)
Waterproof fabric or coated cotton for lining (I've used a plastic coated table cloth)
Zipper (longer than 40cm/16″)
twill tape or ribbon, 20cm length
Sewing machine with zipper foot
Cutting mat, quilting ruler and rotary cutter
General sewing supplies
How to make a Zippered Wash Bag:
Cutting:
Cut 2 x rectangles from outer fabric 30x40cm (14″x16″)
Cut 2 x rectangles from lining fabric 30x40cm (14″x16″)
Cut 2 x 10cm lengths of twill tape (4″)
Inserting zipper: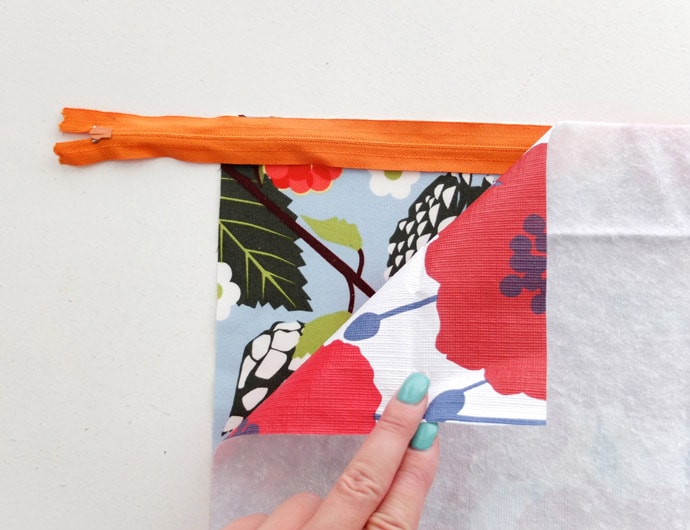 1. With outer fabric right side facing up, lay zip (right side down) along longest side of fabric rectangle. Lay lining right side facing down over top, lining up edges. Make sure zip is centered and ends hang out equally on each side. Pin if desired.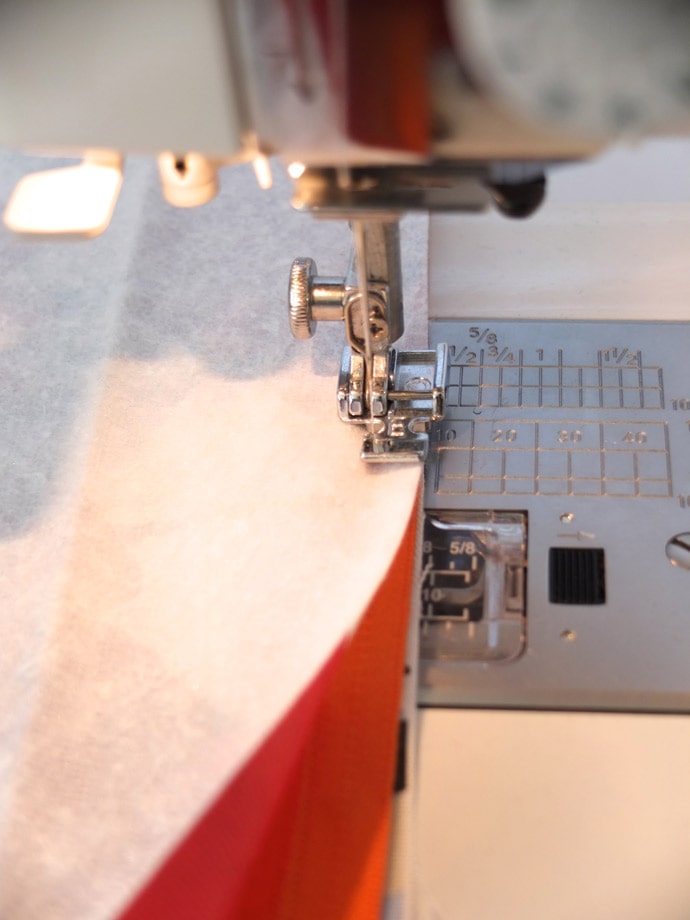 2. Keep zip closed. With a zipper foot, sew seam along edge that you've just assembled. Use width of your zipper foot to keep seam allowance consistent.
3. Flip both fabric pieces back so the wrong sides of fabric are facing. Finger press to make seams sit flat.
4. Repeat for other side of zipper. With outer fabric right side facing up, lay zip assembly (right side down) along longest side of fabric rectangle. Lay lining right side facing down over top, lining up edges. Sew zip in as before. Tip: Right sides of outer should be touching, and right sides of lining should be touching.

5. Open flat and finger press seams. Test zip to make sure it doesn't catch on fabric.
6. Switch to regular sewing foot. Top stitch along sided of zip.
Construction:
7. Fold in half at zip with lining on the outside. Sew a seam on opposite edge to zip (1cm seam allowance). Make sure you catch all layers.
8. Overlock or zigzag over raw edges (Do this on all seams from now on)
9. Flatten out with zip on top lined up with central bottom seam. UNZIP zipper to halfway down.
10. Fold twill tape pieces in half to form a loop. Pin with loop facing in to ends of zip, aligning cut edges to edge of fabric. Do this on each side, taking extra care on open side of zip to ensure edges sit together.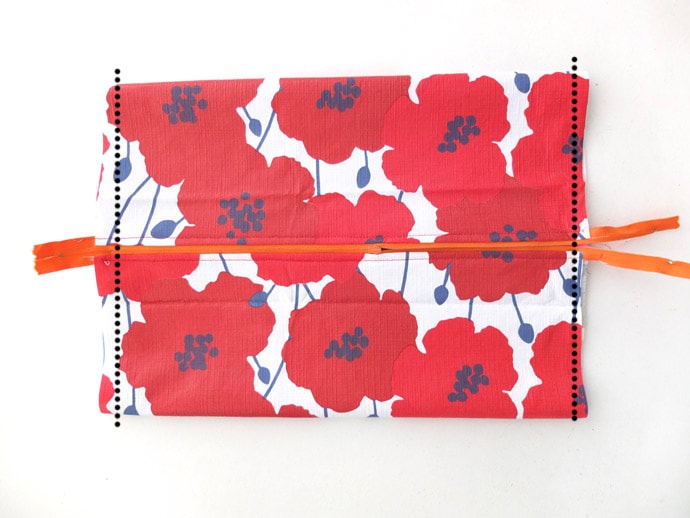 11. Sew open sides closed as shown. Back stitch over zipper to reinforce.
12. Trim zipper excess and zig zag raw edges. Notice double stitching over zipper.
Boxed Corners:
13. Puff up bag and pinch corners in to form boxed corners. Mark seam line with a pencil and ruler. I've used the 45 deg angle on ruler as a guide, 10cm across. Mark all corners
14. Pin and sew along marked lines.
15. Trim excess fabric and zig zag raw edges.
16. Turn inside out. All done!
This bag is a generous size and easily fits full sized products. (Or even a pair of shoes).
I've made ten bags from one tablecloth and supplies from my stash. I've raided my bathroom cabinet and have done a little shopping, along with donations from some of the mums at school and a helpful reader, I'm hoping to fill them with toiletries to donate to St Kilda Mums and their One Mother to Another initiative.
If you would like to let another mother know you are thinking of her on Mother's Day – here's how.
She might be living in a refuge; her house might have burnt down, she might be homeless. She needs your help!
It couldn't be easier to give another mother a beautiful gift this mother's day, Just follow these five simple steps…
Make up a gift bag of women's toiletries – choose a nice toiletry bag (or make one) and fill it with everything you can think of if you had nothing.
Include a note for another mother to let her know that you care
Take a photo of your gift pack and post it on facebook, twitter or instagram using the hashtag #onemothertoanother
Pack in a small bag or box and please include your name and address so that we can send you a thank you note.
Post to St Kilda Mums 14 Winterton Road, Clayton VIC 3168 – I'll be dropping mine off as I live locally.
St Kilda Mums will distribute your gorgeous gift to a mum in need.
Here are some ideas for items to pack in your gift bag:
Toothbrush, toothpaste, floss, hairbrush, hair ties, comb, shampoo, conditioner, soap, tampons/pads, sunscreen, body and face moisturiser, cotton buds, cleanser, eye makeup remover, nail clippers, nail file, tweezers, body wash, tissues, cleanser, razor & shaving cream, hand cream, lip balm, deodorant, face wipes, body wash, sunscreen, paw paw cream, band aids or a basic first aid kit. You might have samples or small toiletries from hotels or airlines that you can include.
Don't worry if you can't fill your toiletry bag, I'm sure that they will appreciate empty bags that they can fill with other donated items to make up a complete gift pack.
If you can't sew how about crocheting up some cotton wash cloths?
Visit the St Kilda Mums website for more information.
If you don't live in Australia and still want to help another mum in a tough situation, get in touch with your local women's crisis center to see if they would appreciate some toiletry packs too.
Get together with your friends and make up some packs together.
If you can't make a gift pack, leave a message in the comments and I will happily print it out on a pretty note to include in one of my packs.
xx Cinti