Transform a boring pair of shoes into something worth stepping out in. This is a quick and easy shoe makeover project that only requires a few household supplies.
I bought them a while ago with the intention of jazzing them up (because they remind me of jazz ballet shoes) but never got around to it. After a week of constant wear, they were looking a bit shabby.
Inspired by some pretty printed leather brogues I've seen around, I improvised with what I had on hand (the kiddos markers) and gave my old shoes a new look.
I love an easy wardrobe refashion project and this one really hits it out of the park. It's quick, cheap and the transformation is so worth the small amount of effort.
Give it a try!
You may also enjoy:
Makeover a Boring Pair of Shoes with a Water Colour Design
Don't discount a comfortable but boring pair of shoes. With a little bit of creativity you can add a whimsical touch to your wardrobe and give those shoes a painterly watercolor inspired makeover.
You can use any markers you have available. Permanent markers like 'Sharpies' will result in a more durable finish. But in a pinch, water-based markers work fine. The shoe polish top coat seals in the colour and keeps them looking vibrant.
This technique works best on natural un-coated leather that will absorb ink. If you have shoes that are shiny with polish, try using a leather deglazer to remove the leather coating before adding colour.
You will need:
Markers – choose a harmonizing colour pallet
Soft cloth
Hint: Test markers on an inconspicuous area of the shoe first (like on the tongue) to ensure your markers are compatible with the shoe leather.
How to:
1. Clean shoes and remove laces.
2. Decide on your design (do a little test run first on paper) and start colouring.
3. When complete, coat with a thin layer of shoe polish and buff of gently with a soft cloth. The colour of the leather may deepen slightly.
4. Re-lace and enjoy your new pair of shoes!
The little park opposite our flat in London is full of pretty white daisies. Apparently it's been the first week of nice weather this summer and everyone is out in force soaking up the sunshine.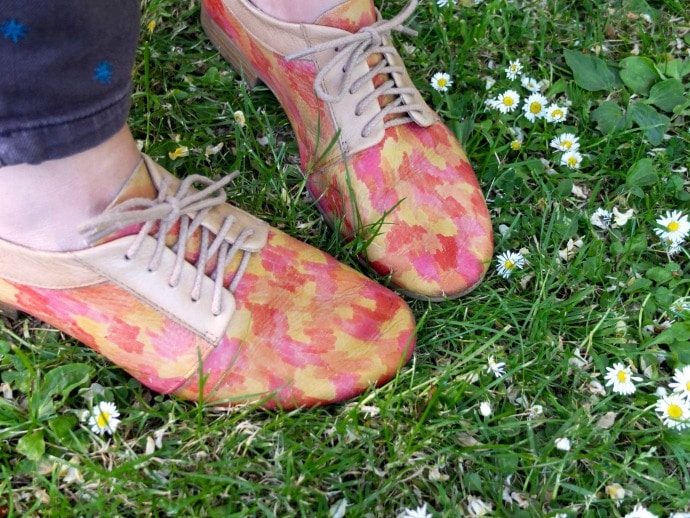 Read about our travels in London over on My Poppet LIVING.