If you are looking for easy kids craft ideas, or sewing patterns for kids, this DIY Kids Wallet is a fun project to try.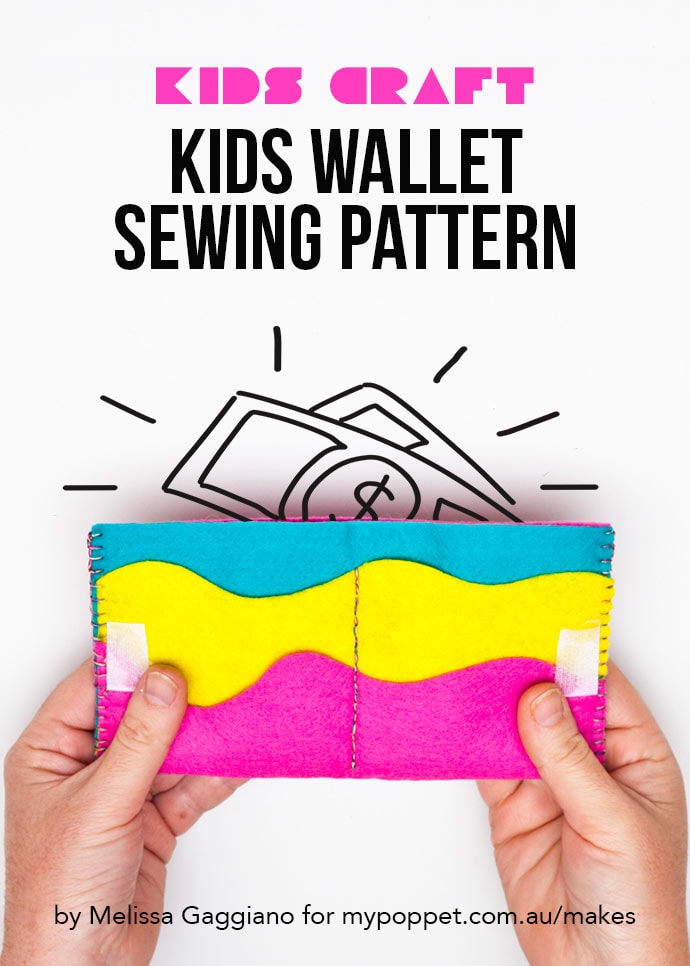 Whether conscious, or not, kids love to emulate their parents. It could be wanting to wear ties (just like Daddy), or carrying a handbag (just like Mama's).
My kids love having their own handbags and wallets, even if they've nothing yet to keep in them. This inspired me to design an easy to craft felt wallet that was easy enough for kids to sew themselves.
You'll only need a few sheets of craft felt and some basic sewing supplies to get started, with the option of adding extra decorative elements to the front cover made from glittery sticker foam sheets.
This little kids wallet is the perfect size to store all sorts of treasures in. Not only is it great for holding money, you can safely keep library cards, ticket stubs and other favorite finds in there.
This kids wallet is suitable for both boys and girls, just let the child choose their favourite colours.
With 4 small card compartments and a large one for notes, they'll have plenty of room to stash all their cash!
Now it's time for them to do some chores and save up some pocket money!
More Sewing Patterns for Kids:
Kids can make their own wallet with this easy Wallet Sewing Pattern
You will need:
A4 felt sheets: pink, yellow and turquoise (or colours of your choice)
Scissors (suitable for fabric)
5cm hook and loop tape (or Velcro Adhesive dots)
Hot glue gun
Thread
Sewing Needle
Sticker foam sheet (optional)
Dressmakers pins or masking tape
amzn_assoc_placement = "adunit0";
amzn_assoc_search_bar = "false";
amzn_assoc_tracking_id = "mypoppet-20";
amzn_assoc_ad_mode = "manual";
amzn_assoc_ad_type = "smart";
amzn_assoc_marketplace = "amazon";
amzn_assoc_region = "US";
amzn_assoc_title = "Need Supplies?";
amzn_assoc_linkid = "90b42eb146b374df7352f3d67fb37cf6";
amzn_assoc_asins = "B01N1U85M1,B00GUZK4I2,B00CWENIU6,B0776MFZ2W";
//z-na.amazon-adsystem.com/widgets/onejs?MarketPlace=US
How to make a little kids wallet:
1. Print the wallet pattern template at 100%, and cut out the pattern pieces.
2. Trace the wallet pattern pieces onto the felt sheets. Don't forget to include the reference markings. These will help you line up the pattern pieces to make assembly and sewing easier.
3. Cut out the felt pieces with fabric scissors.
4. Layer the felt pieces – with Pieces B and C lining up with the fold line of Piece A, and the pattern reference markers. Pin or tape in place.
Tip: Masking tape is a good alternative to pins for kids sewing projects.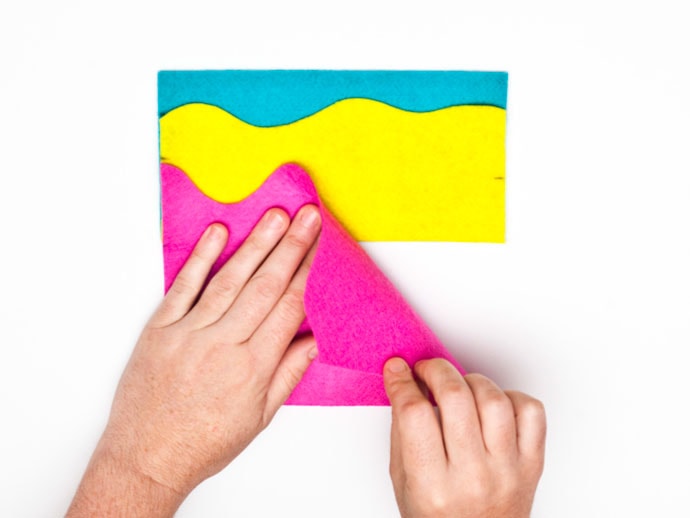 5. Stitch up the center of the layered pieces as indicated by the dashed line on the pattern. Sew all the pieces together with a plain running stitch or back stitch. Kids my need some assistance threading the needle.
Tip: For the stitching, I threaded the needle with three threads at the same time. Each thread is a different colour. The effect is quite pretty, and also makes the wallet feel sturdier.
6. Fold up Piece A so that it sits behind Piece C. This will be the outer cover of the wallet.
7. Sew closed the two short sides of the wallet, with a plain or blanket stitch.
8. Glue the hook and loop tape to the inside edge of the wallet.
9. Optional but fun! Cut out sticker foam shapes, and decorate the cover of your very own kids wallet.
Fill with treasures and you are all set to go!