Easter is only a couple of weeks away, and the supermarket aisles seem to be laden with chocolate temptations. I couldn't resist and had to buy some cute Easter treats, purely for crafting purposes of course!
I can't reveal how many chocolate eggs were consumed during the making of these Paper Cup Easter Baskets, but let's just say, I had to keep my strength up.
I've always tried to create projects that use the materials I have at hand and it's amazing the cute stuff you can create with just items from your kitchen cupboards and stationery supply drawer.
If you have some unused paper cups left over from a party, these little Easter Baskets would be the perfect project for the kids to make and give to their friends filled with Easter treats.
Don't have washi tape? Don't fret; stickers, markers or paint will give a lovely decorative result.
These Paper Cup Easter Baskets are the perfect size for mini chocolate eggs, homemade Easter cookies or small toys.
You may also enjoy these Easter Craft Projects:
You will need:
Paper cup
Washi tape or decorative fabric tapes (You could also draw or paint on the cups)
Drinking straw – paper or plastic
Pipe cleaner (Chenille Stick)
Scissors
Awl, Hole puncher or Metal skewer (I've used the end of pointy tweezers)
To Fill: Shredded paper or tissue paper, and treats
How to make Paper Cup Easter Baskets:
1. Decorate your cup as desired. You can really get creative with stickers, paint or anything you have at hand.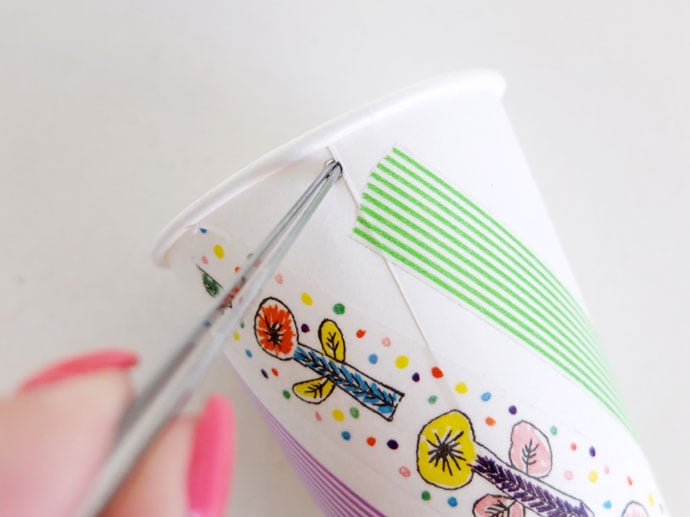 2. Punch 2 holes near the rim of the cup using an awl or metal skewer. Make sure they are directly opposite each other. Tip: If you are doing this as a kids craft activity, pre-punch the holes before decorating to save time.
3. Cut drinking straw to a length slightly smaller than the cup diameter.
4. Thread straw through pipe cleaner to make the top of the handle.
5. Feed ends of pipe cleaner handle through holes and twist to fasten. Trim any excess pipe cleaner length.
All done! Now just fill with Easter treats, (if there are any left after all that hard work!)
This Easter Craft Project was originally published March 2015 and updated March 2019