I love making projects that involve at least one of the following criteria: decluttering, upcycling, sewing and a need. This Braided T-shirt Rug ticks all the boxes, so when I spotted a circular rug made by Sewing For Life on Pinterest, I was itching to start on my own immediately. Here's why…
Declutter – I'd been hounding Mr Man to clear out some of his old t-shirts that he no longer wears, the bottom actually fell out of his t-shirt draw from the weight of all the excess clothing!
Upcycle – Most of said t-shirts were well past their use by date with most of them having holes, stretching or stains, so charity donation was not an option. Usually I tear old shirts up for dusting rags, but the truth is, who needs to dust that much?
Sewing – enough said
Need – With a chilly winter on the way in Melbourne, I thought it would be lovely to finally have a bedside rug to treat my feet to some cushy comfort on a chilly morning.
This Upcycled Rug is a super satisfying project to make but it wasn't all smooth sailing, so this tutorial is less about 'How To' and more about what not to do and troubleshooting solutions. Read on to see how I made mine.
You will need:
Old T-shirts or fine cotton knits (the more you have the larger the rug will be. I used 13)
Scissors
A clothes peg
Sewing Machine and general sewing supplies (jersey needle recommended)
Non-slip rug underlay (IKEA STOPP FILT works great)
How to make a Rug from Old T-shirts:
Cutting the t-shirts into strips
I've made a video explaining this step – WATCH VIDEO, or
Cathy from Sewing for Life covers this in great detail so I recommend reading her post Prepare your T-shirt Yarn.
Cut t-shirts into 2″ strips, I didn't measure exactly so don't be too fussy about measuring.
Tip: if you are mixing thinner knits with thicker fabric, cut the thinner t-shirt into wider strips.
Roll your yarn into balls.
My thirteen t-shirts made thirteen balls of yarn.
Make a braid
Work the yarn just like you would braid a plait of hair.
It's up to you if you want to braid and sew as you go along or if you want to finish all the braiding before sewing.
I chose to do all the braiding first, it took me a few evenings in front of the TV.
To start and change colour you can either sew your strips of fabric together as Cathy has done, or use a No Sew option that I used, of making a little hole in one strip and looping the new colour through.
When braiding think about how you want your finished rug to look. For solid bands of colour, at least two of the three bands of braid should be the same colour or very tonally similar. If you want a more specked random look, make each strand a different colour with as much contrast as possible.
Sewing for Life method of Starting and changing colour.
Braiding Tip: Hold the braid between your knees as you work and fasten the end with a peg, as you work your braid, move the peg down to keep the braid nice and firm and prevent it from unraveling.
The braiding was my favourite part and I found it quite therapeutic.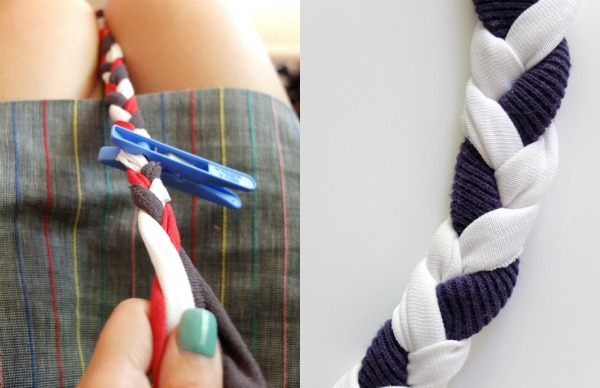 Here is what thirteen t-shirts worth of braid looks like.
Sewing the Rug
You can choose to sew a circular rug like Cathy's or an Oval Rug like mine.
To make an oval rug lay out a long straight piece of braid and fold it around itself. The initial length will determine the final shape of the rug, a short length will result in a shorter wider rug, a long length will make a long narrow rug.
Pay close attention to the direction of how you lay out your braid to avoid repeating my mistakes.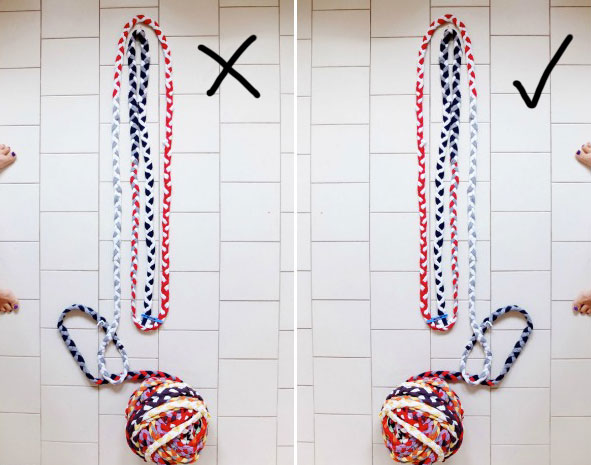 As you can see from the photo above there are two options for laying out the direction of the braid.
On the left was my initial attempt, anticlockwise. DON'T DO THIS, I'll explain why later.
On the right is the correct way with the braid going around CLOCKWISE.
Decide on the general shape and length of your rug and start sewing where the arrow is pointing.
Use the widest Zig Zag stitch setting on your sewing machine, medium stitch length is fine.
Push together the edges of the braid as you sew, when you get to the end (first curve), loop the braid around tucking the start of the braid underneath, and sew around. This will fasten the loose braid end.
Continue sewing around and around.
Sewing tip: If you find your stitches are skipping, try using a jersey needle which is designed for knit and stretchy fabrics.
Luckily I had one jersey needle left to save the day!
Here is what you want your stitching to look like.
Below is my first attempt at sewing the braid together and my big Boo Boo. Can you see what you did wrong? If you look closely and what became apparent to me fairly quickly is that because I had started the braid coil anticlockwise, as I started sewing the bulk of the rug was going to grow on the machine side under the sewing arm. Doh!
Because the rug is so big you need the bulk of it to grow towards the outside of the machine and onto the table. I had some unpicking to do.
TAKE TWO!
Once you get the hang of it the rug grows fairly quickly.
Because the fabric was stretchy and the thickness of the braid varied, the rug took on a slightly organic curvy shape.
Sewing tip: To prevent the edges curling up or becoming fluted as you sew, feed extra braid around curves to keep the ends sitting flat and when sewing straight sides pull the braid a little firmer. You will understand as you start sewing.
If you have an extension table for your machine, now is the time to use it. It helps keep the heavy rug supported and prevents irregularities in braid tension.
To finish just tuck the end of the braid under the rug and sew over a couple of times.
Here is the finished rug, it fits perfectly beside my bed.
If you find it curls up or bubbles a little, give it a good stretch out and use a non-slip underlay beneath it. I found that helped smooth it out nicely and of course makes it safe to walk on.
I quite like how it turned out, and the most amazing thing was that it cost next to nothing and diverted thirteen garments from landfill.
What do you think? Are you keen to make your own Braided Rug from all those old t-shirts cluttering up your wardrobe?
Need more t-shirt upcycling ideas? You may like – Upcycled T-shirt Tassel
Like this project? Sign up to the mailing list and get lots of fun stuff delivered to your inbox.