I'm really enjoying making Easter craft projects with paper, and coming up with cute simple ideas for using my Bunny Face Printable.
So far I've shown you how to make a Bunny Takeaway Box and Easy Bunny Garland, today I've made a couple of projects that are perfect to make your Easter table setting really special.
With just one small variation in this craft project, you can make either a Bunny Egg Cup or a Bunny Napkin Ring.
Both are really quick and simple to make, and if you are having an Easter lunch or party, why not write your guest's name on the bunny's ear and use them as a place marker.
You will need:
Bunny Rabbit Printable 1 copy printed at 25% or 4 on each page = 8 faces all up. (I'll show you a trick to do this)
A4 size card or thick paper
Stapler
Double-sided tape
Ruler and Pencil
Scissors
How to make these two cute Easter Craft Projects:
For Both the Napkin ring and Egg Cup
1. Print out Bunny faces onto card at 25% size. If you have a Mac open in Preview and use the option 'copies per page'= 4 (I'm not sure if there is a PC/windows equivalent to this)
2. Cut out as many faces as you like close to black line.
To Make Egg Cup
1. Cut a strip of card about 1″ thick for each egg cup.
2. Measure base of egg with strip to determine size.
3. Staple to secure.
4. Attach double sided tape to the back of the bunny face cut-out.
5. Stick face onto cardboard ring making sure the bottom of the face aligns flush with the base of the cardboard ring.
6. Now your Easter eggs won't roll away!
easter craft projects
To Make Napkin Ring
Follow all the same steps (1-4) as above until it's time to attach the face onto the ring.
This time:
5. Stick face onto cardboard ring making sure the the face is centered with the cardboard ring.
6. Slide a napkin into the ring to make your Easter place setting extra special.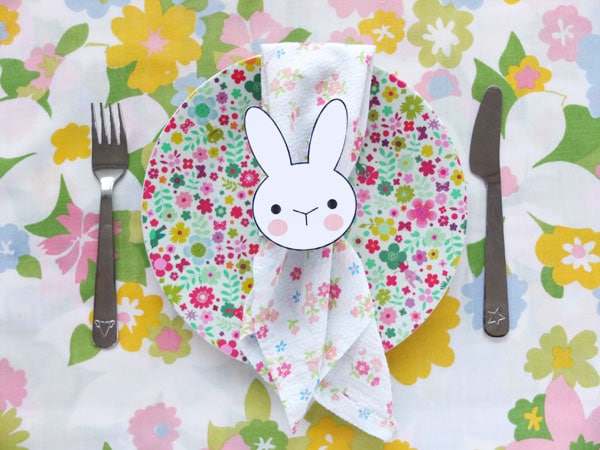 Who knew a simple printable motif could be so versatile?
Tune in soon for the final easy Easter Greeting Card project with this printable before the Easter bunny really arrives.
You may enjoy these Easter Craft Projects: