Sew a cheerful and re-usable Advent Calendar Wall Hanging to usher in the festive season this Christmas. Fill it with treats to enjoy, then just roll it up and pack it away, ready for next Christmas.
I remember with great fondness the little cardboard Advent Calendar my sister and I had as children. It was a little village scene where the tiny doors and windows opened up to reveal a new picture every day.
It didn't contain treats, but my sister and I would still fight over who was opening the doors. I'm sure mum still has it somewhere, the glitter has probably all fallen off though.
With Emma getting older, I thought it would be fun to start our own little Advent Christmas traditions.
Because it's summer here in Australia at Christmas time, I've never much related to the traditional red and green regalia associated with this time of year.
A summertime Christmas should be celebrated with loads of colour so naturally I gathered some of my brightest vintage fabrics and got to work making this Advent Calendar Wall Hanging.
It's fairly simple and can be adapted to any colour scheme depending on the fabrics you choose. Add some pom poms for a little extra zing!
You will need:
Mid/Heavy weight cotton fabric for back (denim is ideal) 64cm (25″) x 92cm (36.5″). You can change the size to suit your space.
Assorted bright fabrics for pockets
Advent Calendar numbers. These Iron-on numbers are similar to the printed canvas ones I used.
2x bamboo garden stakes or thin wooden poles cut to the width of your hanging (about 62cm)
Yarn or cord
Extra yarn for pom poms (optional)
Pom pom maker (optional)
Sewing machine and general sewing supplies
How to sew an Advent Calendar:
1. Press and cut your backing fabric to size. I have used the full width of the fabric as the height of the wall hanging. This was a vintage piece of fabric with some stains that were covered up nicely by the pockets.
2. Hem the side seams, first using your iron to neatly press a 1cm (1/2″) double fold, then stitch.
Hem top and bottom, leaving ends open to insert poles. I've made the width of the top and bottom hem about 1.5″ wide.
3. From assorted fabrics cut out 25 square and rectangle shapes for your pockets. They should vary in size, but remember to allow a 1cm (1/2″) seam allowance so cut them a little larger than your intended finished size. I just did a bit of freestyle cutting and moved the pockets around till I was happy with the overall balance.
4. Cut out numbers and place one on each pocket. If you are using iron-on numbers, follow instructions and iron onto plain cotton fabric then cut out and proceed.
5. Sew the numbers to the center of each pocket front using a wide but closely spaced zig zag stitch.
6. Iron the edges of the pockets over towards the center and pin on backing fabric in desired position. Sew around dotted line.
To get a good visual balance, I've tried to align the pockets either vertically or horizontally, working from the outside in.
7. Sew on pockets, making sure you double stitch the start of the seam at the top opening of the pocket. Insert rods into top and bottom hems and whip stitch closed.
8. Braid yarn into a long cord (or use pre-made cord) and make some pom poms if desired. Sew onto the top corners of hanging. See pom pom maker instructions here.
All done! Time to fill those pockets with goodies!
Emma is already super excited about the potential treats in store, although I'll keep the sweets to a minimum and will include lots of fun activities as well.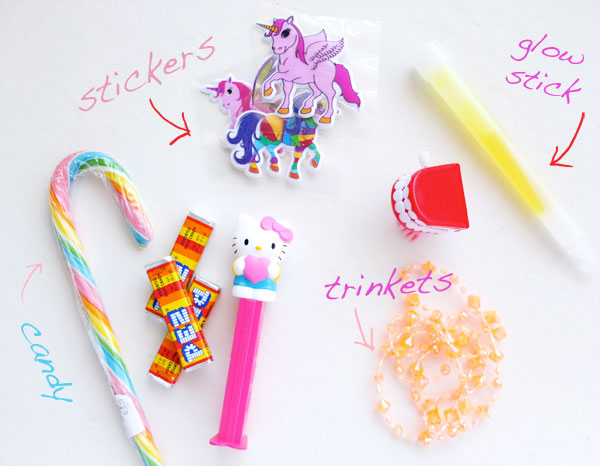 I'm sure she will love the pony stickers (it's all about ponies these days), and I totally cracked up at the walking teeth.
Her first Pez dispenser and a glow stick. Other activities that may be fun to add will be, making Christmas decorations, making gifts for special friends, writing letters to Santa and Christmas cards…I'm sure I'll think of many more.
What's your favourite Advent Calendar treat or activity? I'd love a few suggestions.
You may also like: